20/05/2015
sWave technologie | steute
Wireless technology sWave® 868 / 915 | steute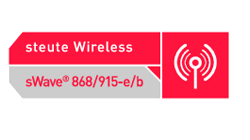 Wherever movable parts of machines and plants need to be positioned, controlled and monitored, cables are undesirable or a hindrance, reducing the viability of the plants. Steute offers a self-sufficient and a battery-operated solution.
sWave® 868 / 915-b MHz battery-operated, bi-directional
Industrial sensors, for example, wireless inductive sensors, GMR sensors or optical wireless sensors, require additional energy for operation. These sensors dra their energy from a powerful long life battery integrated into the sensors (e.g. position switches, operating devices, non-contact wireless sensors).
Special features
Bi-directional self-sufficient wireless path
High sensing range: up to 60 m inside buildings and 700m in free field
No interference with DECT, WLAN, PMR systems, etc.
Good integration in automation systems
Short telegrams (small duty cycle) lead to low collision probability
Also possible with battery operation
Non-contact wireless sensors possible