Automatic sliding gates for a safe passage
Do you wish to fence off the site with one or more sliding gates? Passing vehicles must be granted as easy access as possible. Loop detectors analyse induction loops installed in the ground and detect an approaching vehicle on time. Assembling safety switch strips on the closing edges assures the safety of man and vehicle. Bircher Reglomat offers activation and safety units that ensure seamless operation of your site fencing.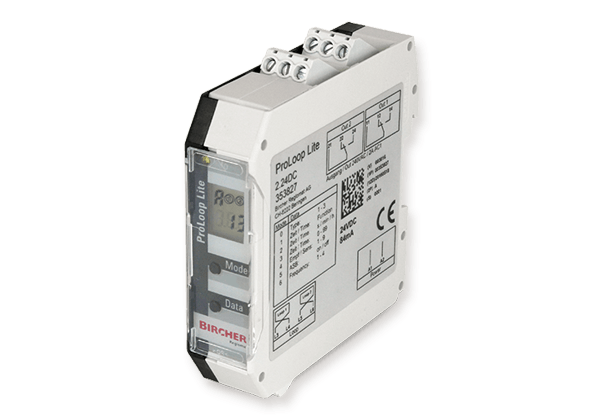 Loop detectors | automatic sliding gates
ProLoop 2
The ProLoop 2 loop detectors analyse induction loops installed in the ground. The loop detector detects metal vehicles of all shapes and sizes, whether they are bicycles or heavy trucks.
Review technical specifications >
ProLoop Lite
The ProLoop Lite monitors and analyses the installed induction loop, detects all kind of metal vehicles and ensures that the sliding gate can engage immediately. The ProLoop Lite makes use of ProLoop's standard functionalities.
Signal transmission | automatic sliding gates
RFGate 2 

The RFGate 2 systems transmit the status of the pressure-sensitive safety switch strips - safely and wirelessly - that are affixed to the mobile section of the gate. This information is transmitted radiographically to the switching device. Programming, assembly, connecting - done!
Review technical specifications >
InTra6

The inductive signal transmission system InTra6 indicates the status of pressure-sensitive safety switch strips safely and wirelessly on the mobile part of the sliding gate with the help of inductive signal transmission.
Airlocks
LBGate
The airlock works as an invisible safety amenity and prevents collisions with people or vehicles caused by early gate closure.
Signal analysis
Switching devices
The Bircher Reglomat switching devices monitor the connected contact mats and safety switch strips for activation and interruption. Moreover, they are monitored for changes in quiescent current levels. The easy-to-read LEDs and the LCD screen indicate the status of the connected signal providers in the twinkling of an eye. You can rely on being able to install and operate your switching device quickly, thanks to the user-friendly settings.
EsGate 2 / EsGate 3
EsGate 2 and EsGate 3 are switching devices that can be programmed in numerous ways and are well suited to a wide range of applications in combination with contact mats or safety switch strips. These switching devices are also monitored on quiescent current and safely analyse the impulses emitted by signal providers. EsGate 3 is equipped with two fully-fledged channels and self-security, and complies with Performance Level e, Safety category 3 according to EN ISO 13849-1.
EsMatix 3
EsMatix 3 comes equipped with two signal inputs. EsMatix 3, together with the switching device safety mats or strips, is part of a certified system that complies with the requirements of PLe with category 3 according to EN ISO 13849-1, that guarantees the safety of sites, robots and automated work spaces.
Review technical specifications >
YOUR APPLICATION
Bircher Reglomat products are well suited to various sliding gate applications, for both private and industrial use.
Any questions about your application? Call or email us for appropriate advice. We will be happy to respond to your queries.