INDUSTRY CONNECTORS | Modular
Enclosures of the modular industry connectors of ILME are available with different combinations of materials, each suitable for a specific application. Normal environmental conditions, high temperature environments, aggressive environments, as well as environments that require electromagnetic compatibility. The basic components are made of cast aluminum alloy with a coating of epoxy-polyester powder or a self-extinguishing thermoplastic.
Protection and security
Stability and protection against accidental opening are ensured by single or double locks consisting of levers, springs and pegs of stainless steel or fiberglass reinforced plastic. The protection of the interior against moisture, dust and aggressive cleaning agents is guaranteed by special seals. When applying the right housing for the application, an IP44, IP65, IP66, IP67 or IP68 seal is guaranteed.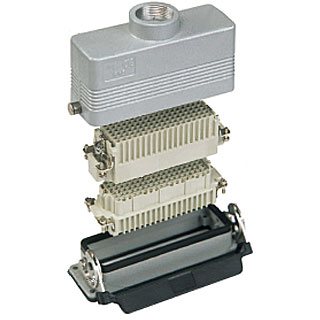 INDUSTRY CONNECTOR FOR HIGH TEMPERATURE AND CHEMICAL PRODUCTS
The isolated T-type housing from ILME are made of plastic thermoplastic material. They are antistatic and have mechanical resistance. This makes them resistant to (most) chemical products for industrial purposes, including salt and the most common cleaning agents. The T-Type series is suitable for use in extreme conditions such as offshore and the food industry.
FOUR POLISH INDUSTRY CONNECTOR FOR 10A, 400V, 4KV
The CKSH is the first modular industry connector in the 21x21 mm connectors that have the Squich principle. With the application of the Squich principle, cables can be mounted on a modular industrial connector without the use of tools. With the CKSH with Squich principle, the vein can be inserted into the modular industry connector via the top
Unique coding
When using multiple connectors in one application, it is possible that the connectors are connected incorrectly. To prevent this, it is possible to provide the connector with a unique coding. The coding pins are set to a unique position for each connector separately. In this way, every connector, male or female, receives a unique coding.
Read more about four pole industrial connector and squich principle
INDUSTRY CONNECTOR WITH IP69K HOUSING
The most used industry connector is the type C. This series has been developed for applications in machinery and industrial environments and is actually applicable wherever a reliable connector for power supply or signals is desired.
The internal works of the CMCE series (with the exception of the 16 + 2 pole) and the CMSE series may use this standard housing up to 830V. Industry connectors type C have a seal up to IP69K. Read more about industrial connector IP69K.
short-circuit connectors
If current flows through a current transformer, it must be short-circuited. An unloaded current transformer is an undesirable situation that can occur when changing measuring instruments, safety relays, carrying out calibration or maintenance work, or replacing wiring. In order to prevent this, use is often made of connection terminals with a short-circuit device.
Read more about short-circuit connectors
WHY TO INSTALL INDUSTRIAL CONNECTORS WITH SQUICH?
Your screwdriver can, as far as ILME is concerned, remain in the toolbox. Because the assembly of multicables on a connector can now be done faster and without tools. With the ILME Squich a multi-connector can be mounted much faster and easier. The flexible control wiring is in fact secured with a snap-in mounting.