Capacitive bar sensor for analogue level measurement
Easy and Reliable Analogue Level Control
The capacitive level probe for analogue level measurement from Rechner Sensors also has 2 additional binary switching points. The user can set the analogue measuring range anywhere within the measuring area. The two switching points can also be positioned anywhere over the whole measuring area, either within or outside of the set analogue measuring range.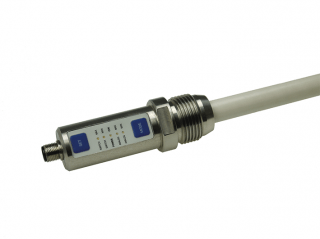 features
Measuring a range of 80mm

Can handle

strong resistance: - 70 degrees Celsius and +250 degrees Celsius


1 or 2 programmable on / off points for simple high / low control

Suitable for detection of sticky products. (Glue, etc.)

Not sensitive to

static effects
3 electrode principle
This compact rod sensor with integrated amplifier is based on the patented by Rechner 3-electrode measuring principle. The measurement takes place between the measuring electrode in the rod and the metal wall. If the wall is not made of metal is an additional electrode is used.
Easy Teach principle
The adjustment of the i-Level probe is made with RECHNER's well-tried EasyTeach philosophy. The probe has an intelligent PNP/NPN recognition. Normally open or normally closed output is programmable. The available output signals are 0...10 V, 4...20 mA, or 0...20 mA. Variants with EasyTeach by wire (ETW ) or CANBus interface are provided on request.