Wireless communication from switch and sensor to network
sWave.NET
For more than ten years, steute wireless switches have been developing. Until now, those switches sent their status via a point-to-point connection with a LAN Gateway receiver to a higher system.
Wireless network with access points
Steute has created a completely new wireless network with "access points". This enables permanent communication of the wireless switches into the ERP system. Up to 100 switches can be connected to one access point.
Switches - sWave.NET
The switches in the field are the basis of the sWave.NET system. For example, the position switches can detect that the last bin of a given article is being picked. Push buttons indicate to a rear system whether there is a need for a certain action at the production cell. A roller conveyor switch is used to detect all kinds of goods over a roller conveyor. The status of all these actuators is transmitted wirelessly to a higher level system.
Examples of actuators for sWave.NET:
Universal transmitters
Roller conveyor switch
Andon switch
Wireless communication with sWave.NET
The wireless communication with the system can be done with different frequencies. The choice for this frequency depends on the location. The range of the wireless signals is within 40m, outside this distance is even up to 700m. Read more about locations for sWave.NET.
In practice, the wireless position sensors available for different frequencies (868, 915 and 922 MHz) are mainly used to check the occupation of roller conveyors in rack systems: when the last container is removed, the sensor sends a signal to the wireless receiver with a request to supplement. On the other hand, signals can also be transmitted in stages, the traffic light principle. In this case, additional wireless sensors at the same rack-level will detect the removal of the two-after-last and one-after-last containers.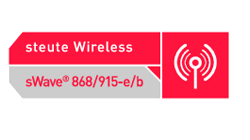 Receivers - sWave.NET
Wireless actuators include receivers that process the signal. The sWave.NET system has gateways with integrated software. These are installed in the room where the wireless switches work. Each access point can receive the signals - depending on the occupation - of the 100+ wireless switches.
Dynamic organization
Dynamic self-organizing system ensures easy configuration, low maintenance and high durability and a successful implementation of the sWave.NET system.
Simple configuration
The sWave.NET network can easily be configured as desired via a web server. Through a user interface, practically oriented and predefined settings it becomes possible to configure this wireless system without specific knowledge.
Flexible interfaces allow adjustments to different applications, such as E-Kanban, Andon systems and automated guided vehicles (AGV).