Modular connector system and modular plugs
ILME's MIXO series is a modular connector system with more than fifty modules, with which a custom connector can be assembled using the standard ILME housings. The modules are placed side by side and placed as one contact block in a standard metal frame. After the modules have been placed and locked with a special strip, the connector can be placed in the housing.
Open connector system
MIXO is an open connector system with many configuration options. This allows the connector to be adapted to the needs of the user. Different modules are available: power / signal, electrical power, data transfer, fiber optic and air. The program is continuously being expanded, so that more and more configurations are possible.
Assemble the modular connector yourself
Put together your own modular connector
With the modular MIXO inserts you are able to put together your own connector. ILME has an online configurator to help you assemble the connector.
Modular interior
The interior of the modular MIXO connector consists of a male or female frame. The frame has a maximum of 6 modules. Power supply and data contacts have a range from 4A to 200A. Connection methods consist of a crimp or spring clip. There are specific modules for Coax, fiber optic, Sub-D, USB and RJ45 Ethernet.
The modular connector fits in a standard 6-, 10-, 16- or 24-pin housing.
The inner diameters for pneumatic modules are available from 1.6 mm to 6 mm and suitable up to a maximum of 8 bar. The female contacts have an integrated shut-off valve to shut off the pneumatic pressure as soon as the connector is disconnected.
Instruction video: assemble your connector yourself
Rugged lightweight aluminum housing - MIXO One
With the Mixo One housing, the more than 40 different modules of the Mixo series can be used as independent connectors. The robust lightweight aluminum housing with direct PE connection and conductive coating is particularly suitable for EMC-critical applications.
Features MIXO one connector system:
Simple connection of the earth due to the two-part housing
Robust bracket, low wear
Fastening to the switch box easier due to internal sealing
From 1-pole 100 A / 830V to 2-pole 16A / 2500V and up to 25-pole 4A / 50V and other connections such as RJ45, USB or fiber optic cables
Preventing incorrect connections with 4 coding elements for 16 codings
Cable entry M20 and M25 can be sideways or straight.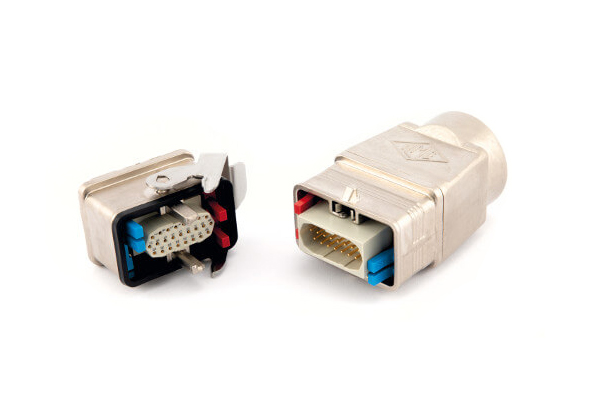 ILME MIXO - Open connector system
Modular connector system with Squich connection
The connector can be used in almost any industry due to its flexible deployment. The MIXO screw connections for data and supply voltages can now also be easily realized with the Squich® insertion system from ILME.
Snap-in confirmation
The CX 05 SHF / SHM insert ensures fast and easy cabling: perfect for automation tasks, robotics, wind and railway applications. You don't need any tools: the control wiring is secured with a snap-in mounting. The connection is resistant to vibration and mechanical stress. Can't go wrong!
MIXO module for high-performance energy storage
To serve the growing market of energy transition, which requires high power combined with compactness, the integration of power systems and relevant cable assemblies must be safe, cost-effective and space-saving.
ILME presents its own solution, the CX 01 YAF/M high-power MIXO module, designed to take up as little space as possible while still guaranteeing 200 A power. Read more about MIXO module for high power energy storage.
Connecting wires without tools - ILME SQUICH®
ILME MIXO shielded modular insert - Assembly tutorial
ILME SIPZC W manual crimping tool for stamped contacts - Instruction video
ILME large enclosures with integrated self-centering floating frame - Instruction video
ILME MIXO RJ45 IDC modular insert - Assembly tutorial
ILME MIXO D SUB modular insert for 2 cables - Assembly tutorial
ILME CR BDSH parallel bridges for CDSH SQUICH® inserts - Assembly tutorial
ILME MIXO Megabit modular inserts - Assembly and instruction video