Industrial connectors & Multi-pole connectors - ILME
ILME creates connectivity
ILME stands for high-quality connectors and components for industrial, engineering and event technology. To engage with users over the world ideas are made. they are able to optimize existing solutions to new connector components. ILME is one of the innovative, targeted manufacturers of electromechanical connection technology of the future.
Assortment ILME
ILME offers high-quality industrial connectors with a protection rating of IP65 to IP69. For the food and beverage industry there are T-type / C and T-type / H with 'Hygienic' design.
ILME - Industrial connectors and plugs
Industrial connectors for every application - ILME
ILME's industrial connectors and modular connector systems are available with different combinations of materials, each suitable for a specific application. ILME has industrial connectors that can withstand high temperatures, aggressive environments, as well as environments that require electromagnetic compatibility.
A connector system for every application
ILME has a connector for every application. In addition to standard connectors, there are also modular connector systems that you can put together yourself. For the food and beverage industry there are special hygienic connectors that are resistant to cleaning agents and chemicals. The housings are available in the most common sizes: 44.27, 57.27, 77.27 and 104.27. Read more about industrial connectors.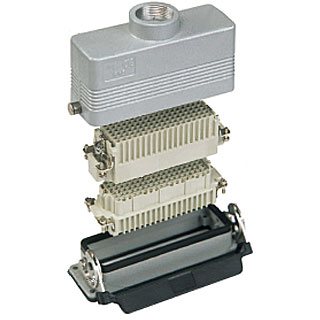 Modular connector system with ILME MIXO
ILME's MIXO series is a modular connector system with more than fifty modules, with which a custom connector can be assembled using the standard ILME housings.
Electric power, data transmission, fiber optic or air
MIXO is an open connector system with many configuration options. This allows the connector to be adapted to the needs of the user. Different modules are available: electrical power, data transfer, fiber optic or air.
Inserts and inserts for modular connector system - ILME
T-type for extreme conditions - ILME
The isolated T-type housings of Ilme are made of synthetic thermoplastic material. They are anti-static and mechanically resistant.
Resistant to chemical products
This makes them resistant to (most) chemical products for industrial purposes, including salt and the most common cleaning products. This makes the series T-type suitable for use in harsh environments such as offshore and the food industry. Read more about ILME T-type.
Industrial connectors for food and beverage - ilme
ILME's T-type / H and T-type / C are robust and solid thermoplastic housings (high impact resistance), with special gaskets (silicone gasket / HNBR rubber, resistant to acid detergents, vegetable and animal fats) and handles that are resistant are against most common chemicals and cleaning agents, animal and vegetable fats, acids and detergents used in the food and beverage industry.
Degree of protection and temperature
The housings are easy to clean thanks to the smooth surfaces that may come into contact with food. The housings have a degree of protection of IP66 and IP69 according to IEC 60529, so that they can be cleaned under high pressure in the food industry. Read more about industrial connectors for food and beverage.
Ilme Squich
Your screwdriver can remain in the toolbox, regarding to Ilme. Mounting multi cables to a connector can be done quickly and without tools. Using Ilmes Squich a multi-connector can be assembled much faster and easier. The smooth control wiring is common ground put with a snap-in mounting.
Connect cables without tools
Safe and fast connection of current transformers
When current passes through a current transformer, it should be shorted. With the new patented short-circuit connectors ILME you do can do this in a quick and safe manner.
Because a current transformer behaves as a pure current source, it is necessary to conclude if this short is unloaded. After all, a current will generate a theoretically infinitely high voltage due to the infinite high resistance that occurs over the clamps.
Housings for industrial connectors