Food and Beverage cables and connectors
Cables and connectors used in the production and processing of foodstuffs must meet strict hygiene requirements. Few industrial sectors are as demanding and versatile as the "Food and beverage industry". The HACCP (Hazard Analysis Critical Control Points) plays a central role in ensuring food safety. The NVWA checks compliance with a HACCP system Within the EU, the EN 1672-2 standard applies when designing machines for the food industry.
Strict hygiene requirements
The machines and installations in the food industry are structurally cleaned and disinfected with aggressive means. Applied cables and connectors must be resistant to these aggressive agents. The cables may not (even in the long term) show any cracks, cracks, splintering or flaking. Cleaners or food residues remain behind in the cracks and bastes, splinters and flakes end up in the products with all the consequences. Obviously, the cables and connectors must not be absorbent, transmit unwanted odor, color or blemish on the foodstuffs or contribute to the contamination of foodstuffs.
Hygienic Design cables and connectors
Classic cables and connectors are not resistant to aggressive cleaning and disinfecting agents, they eventually crack and flake / chip and absorb unwanted liquids or food residues over time. Cables and connectors with ESCHA's 'Hygienic Design' make it possible to use components in applications where they come into contact with food. Contact between materials and the food to be processed is prevented and high protection against cleaning agents is ensured. The connectors (stainless steel / corrosion resistant) within the 'Hygienic Design' refer to the EHEDG guidelines and comply with FDA legislation and regulations.
Robust and resistant to aggressive substances
The special structure of the surface of the connectors prevents the remaining residues and staining. The TPE-based, vibration-resistant stainless steel lock nuts and cables are resistant to ECOLAB-certified cleaning agents (chemical resistance). This ensures that the sealing, coating and optical properties remain intact in the long term with regular use of aggressive agents, even at temperatures from -40 ° C to + 105 ° C.
High protection degree
TPE is an extremely resistant material that is very suitable for harsh conditions and applications in milk processing. For applications with fewer requirements than milk processing, PVC cables P00 and P01 (both UL approved) are excellent alternatives. The food and beverage cables have a degree of protection of IP65, IP67, IP68 and IP69, are halogen free and can be used in energy chains.
Features food & beverage cables
Available in M12x1 and M8x1
Vibration-resistant stainless steel locknut
ECOLAB certified
Temperature: -40 ° C to + 105 ° C
Protection rating: IP65 to IP69
Standard: IEC 61076-2
UL-approved
Plastic knurled nuts for the food industry - ESCHA cables and connectors
Special plastics or V4A stainless steel are often used to resist aggressive cleaning and cleaning agents. ESCHA developed connectors with cost-effective plastic knurled nuts in 'Hygienic Design'. A good alternative to the relatively expensive stainless steel knurled nuts!
The new plastic knurled nuts are extremely robust and can be tightened by hand or with a wrench. In addition, they meet the protection standards of IP67, IP68 and IP69 and are resistant to Ecolab cleaning agents. The hygienic design prevents the build-up of dirt and residues.
The new plastic knurled nuts are available for M12 connectors in three, four or five-pole version. Three cable qualities are available. You can also choose between male and female and straight and angled variants.
Food and beverage catalogue
Download the catalogue with cables and connectors for the food industry. FDA-compliant materials guarantee high resistance to acid and alkaline cleaning and disinfection agents.
M8x1 and M12x1 components
All M8x1 and M12x1 components are dust and waterproof and protected against water with high pressure and high pressure cleaning (IP65, IP67, IP68 and IP69). With PVC and PTE, we have the right cable for your application.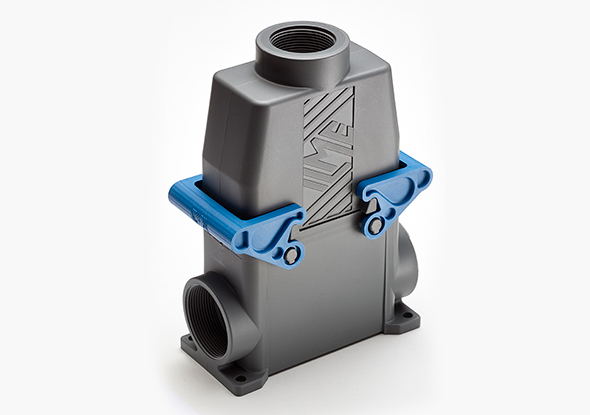 Industry connectors housing Hygienic - ILME T-type
Classical metal industry connectors have a high impact resistance and are resistant to aggressive cleaning and disinfection agents, but in the long term metal industry connectors cause corrosion, for example due to high temperatures, damage, acid-containing electrolyte or a rubber seal with all the consequences.
The T-type / H and T-type / C from ILME are robust and solid thermoplastic housings (high impact resistance), with special gaskets (silicone gasket / HNBR rubber, resistant to acidic detergents, vegetable and animal fats) and handles that resist are against most commonly used chemicals and cleaners, animal and vegetable fatty, acidic and detergents used in the food and beverage industry.
ECOLAB® approved
The industry connectors are ECOLAB® approved according to the protocol R & D / P3-E Nr. 40-1 and are resistant to cleaning with acid foam, Ecofoam basic, corrosive foam cleaners, disinfectants based on chlorine, peracetic acid and neutral disinfectants. The T-type / H connectors have been tested for immersion and cleaning.
Protection degree and temperature
The housings are easy to clean thanks to the smooth surfaces that may come into contact with food. The enclosures have a degree of protection of IP66 and IP69 according to IEC 60529, so that they can be cleaned under high pressure in the food industry. The housing of the T-type / H-series is resistant to temperatures of -50 ° C and +70 ° C (T-type / C: -40 ° C to +70 ° C), which makes the housing ideal for use in cooling systems of the food industry. The industry housing has an M25, M32 and M40 cable outlet and can be built modularly to your own requirements.
Features food & beverage connectors
High impact resistance
Modular industry connector
ECOLAB certified
Silicone gasket / HNBR rubber
Temperature: -50 ° C to +70 ° C
Protection rating: IP66 to IP69
Standard: IEC 60529
Output: M25, M32, M40
T-TYPE HYGIENIC for food industry
Hygienic design: what does it mean and what do you have to take into account?
In the food, beverage & pharma industry, it is very important that parts of the installation that come into contact with the product are hygienically designed. But what does that actually mean, a hygienic design?
Hygiënical design is relevant in the following sectors:
Food industry
Beverage industry
Pharmaceutical industry
Chemical industry
Cosmetic industry
Biotechnology