ESCHA Cables and Connectors - Data - Power - Ethernet
ESCHA develops and manufactures its power cables, data cables, connectors, chassis parts, splitters and I / O boxes in Germany. 840 people work for ESCHA worldwide. Together they generate an annual turnover of approximately € 87 million. Through ESCHA's global distribution network and production facilities in Europe, America and Asia, they guarantee consistent product, quality and service worldwide.
Types of cables and connectors from ESCHA:
M12 Power - ESCHA
Because electronic devices are more and more stable, the demand for compact power supply increases. ESCHA has expanded its product portfolio M12x1 Power with two new coding types. In addition to the available 4-pole components with S-coding (630V, 12A) and T-coding (63V, 12A), components with L-coding (63V, 4-pole without FE in accordance with PNO guidelines) and K-coding (630V, 12A, 4 + PE) offers ESCHA L and K coding types for power supply via standardized M12x1 interface.
Fields of application M12 Power
The compact housing makes the products suitable for power supply in automation. Fieldbus-controlled I/O boxes, power supplies or small servomotors are among the classic applications. Read more about ESCHA M12 Power cables and connectors.
M8x1 I/O-Junction box with active logic-function - ESCHA
The M8x1 I/O junction box with active logic transmits the signals to a central control unit. The individual connections work with the AND and OR logic. I/O junctions with active logic function offer the advantage of a standard cable to a common, unshielded 4- or 5-pole sensor cable.
Compact housing
Because of their extremely compact housing and their low weight, the new ESCHA M8x1 I/O junctions with active logic function have been specially adapted for applications with limited space such as grippers, robots or compact handling units. The M8x1 I/O junction box is available with 4, 8 or 10 connection connectors. Read more about M8x1 I/O junction box.
Data and power via one interface
With the four-pole connection cables and connector chassis parts with P-coding, data and power supply can be connected simultaneously via one M8x1 connector. EtherCAT P connectors have a 360 ° shield according to the IEC 61076-2-104 standard.
Exclude connection errors
The EtherCAT P coding has been developed to exclude connection errors with standard EtherCAT slaves. The EtherCAT P cable prevents all application errors from 24 V I/O level to drives with 400 V AC or 600 V DC and a current of up to 64 A.
Benefits of Ethercat:
Free choice of network topology
Optimal utilization of the bandwidth
High speed
Continuity of message processing
Very accurate synchronization and extensive diagnostics
ESCHA has simple better data transfer by 'shielded' concept
Data cables from ESCHA bring data from A to B with less data loss. Why? Cables from ESCHA are shielded, which means that the cable has an extra cover.
Less data loss
The shielded casing not only runs through the cable but continues into the connector. ESCHA pulls the shielded casing through to the cable, resulting in less data loss. Read more about data cables.
Food and beverage - ESCHA
In the food industry, specific requirements are set for machines and installations. These requirements are much higher than the requirements in classical mechanics. Especially for the food & beverage industry ESCHA has special cables and connectors under the product line 'food and beverage'. The cables offer high protection against cleaning agents. Read more about ESCHA food and beverage cables.
Ethernet Cable for Robot applications - ESCHA
Robot applications are characterized by the many three-dimensional movements that are made. Cables that are used in robot applications must be able to withstand large amounts of twists and turns. The ESCHA "PROFINET Robotic" Ethernet cable is capable of withstanding more than 5 million bending and turning cycles. Read more about "PROFINET Robotic" Ethernet cable.
M8x1 connectors - ESCHA
The new M8x1 connector from ESCHA is equipped with a D-coding for PROFINET applications and a P-coding for EtherCAT-P applications. Both codings are available in a straight and angled version.
More than a standard solution: ESCHA offers custom solutions!
German connector and housing manufacturer develops over thirty years solutions for automation technology and mechanical engineering. Fortop brings the entire product portfolio of ESCHA, both the standard and the custom made products in the Dutch, Belgium and the United Kingdom markets.
ESCHA - Power Follow Bus
Industry 4.0, IoT and BigData are known to everyone and offer unprecedented possibilities. But what about the basic basis - the wiring philosophy? While before the cabinet was the central element of automation, automation technology now moves decentralized to the field.
ESCHA - Tailored connectivity solutions
ESCHA produces tailor-made daily customer-specific solutions every day. ESCHA is an A manufacturer of connectors and housings and has an extensive portfolio of high-quality and reliable round connectors and customized solutions that perfectly complement the offer
Ralf Rodert, Sales Manager at ESCHA
"We are happy with fortop as a sales partner for the Netherlands, Belgium and the UK. It is a company with the same core values as ESCHA: Enthusiasm for technology, focus on quality products and solutions and much emphasis on details." He adds: "Fortop is active in the market for a long time, has a large network and has relevant experience in the industry. Together we will increase the presence of ESCHA in the market."
The complete demand of ESCHA
Download for the full range of standard connectors the ESCHA catalog, or browse the webshop.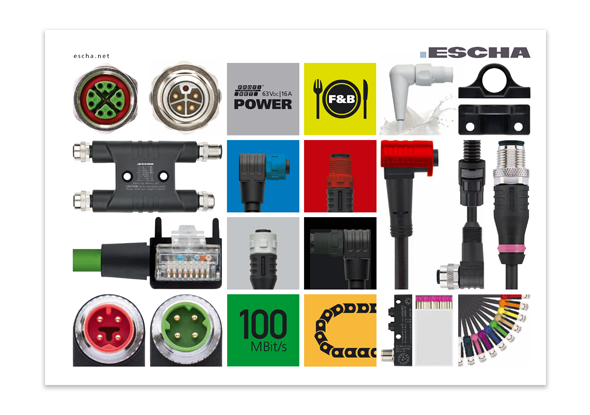 Industrial connections by ESCHA
View different industrial connections by ESCHA in the webshop.