RECHNER SENSORS CAPACATIVE AND INDUCTIVE SENSORS
Since its founding in 1965, Rechner Sensors has held a leading position in the field of sensor technology and has since developed capacitive and inductive sensors for demanding industrial applications. This is especially true in the area of ​​capacitive sensors for level control or position control. Many consider the name Rechner as synonymous with a capacitive sensor.
Practical solutions
By combining extensive product development with advanced sensor technologies, Rechner solves practical industrial problems that had no previous practical solution.
Due to the rapid developments on the market and specific customer demands, the assortment is constantly growing. The assortment has more than 3000 models, with a wide range of different sizes and process connections.
Rechner sensors to avoid interference and downtime
The capacitive Smart Paddle from Rechner is there for the level control of bulk goods and is designed for liquids with an electric constant of 2 to 80. It can not be simpler: the user installs the sensor, connects it electrically and the level sensor is ready for the measurement .
Pharmaceutical and food industry
The Smart Paddle is made of food contact safe material which makes sensor ideal for applications in the pharmaceutical and food industry. The Smart Paddle is safe to clean (CIP / SIP cleaning) at high temperatures (zero flow, 121 ° C) and is suitable for high pressure, 10 bar 145 PSI.
Easy and Reliable Analogue Level Control
The Rechner Sensors capacitive level probe for analogue level measurement from RECHNER Sensors also has 2 additional binary switching points. The user can set the analogue measuring range anywhere within the measuring area. The two switching points can also be positioned anywhere over the whole measuring area, either within or outside of the set analogue measuring range.
Read more about analogue capacative sensor for level measurement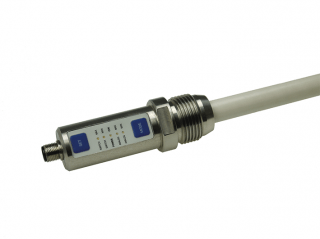 The alternative to tuning forks, rotary and float switches
The 26-series capacitive sensors are High Performance (HP) sensors with unique characteristics in terms of size and shape of the sensor. The 26-series sensors perform better than any sensor when it comes to ignoring material accumulation. Originally developed to optimize the detection of viscous and caking products, the 26 series of capacitive proximity switches has developed into a problem solver for many applications.
Sensor with analogue output for level control of products in liquid form
The LevelMaster-sensors by RECHNER Sensors are developed for the level monitoring of products in liquid and sticky form that are adhesive and/or conductive.
Depending on the selected type, the analogue LevelMaster can be used to carry out an analogue fill level measurement across a defined range. At the same time, it is also possible to detect any signs of pollution so that a cleaning process can be triggered. Another application option is a display of the change in the dielectric constant (DC) of the product to be monitored for quality control. For quality control purposes, the empirically determined starting values can be controlled and analysed using for example a PLC.
Read more about sensor with analogue output for level control