Mayser
Mayser, based in Lindenberg, Germany, is an internationally operating group with five branches in Europe and the US, and develops and manufactures high-quality products and system solutions in the field of security technology.
In the area of building security, Mayser offers pressure-sensitive security for doors, gates and windows that react quickly and secure danger zones, reliably and independently of interfering factors such as light, dirt or weather influences.
Depending on the area of application, sensor profiles, safety strips, miniature safety strips and signal transmission systems from Mayser ensure the greatest possible protection for people and machines.
Comprehensive expert knowledge, in-house development departments, a large production depth and competent advice from proven specialists form the basis for safety technology of the highest quality.
Assortment of Mayser:
Safety in hazardous conditions
Mayser safety solutions are used wherever moving objects or automated processes can compromise the safety of people and goods.
Application areas for pressure-sensitive safety components from Mayser include securing machinery in industry, impact protections for AGV systems (Automated Guided Vehicles), securing doors and gates in the access industry and providing safety during ground handling in aviation.
All Mayser's safety components comply with standards EN ISO 13849 and/or EN ISO 13856, thus meeting the requirements of the Machinery Directive.
Mayser operates in the following industries
Securing doors, gates and windows
When closing all automatic doors, gates or windows, depending on the installation situation and type of use, dangers to persons and objects can arise. Our custom-made safety bumpers, sensor profiles and miniature safety edges reliably prevent pinching by main and secondary closing edges.
If a person or object is in the danger zone during the closing movement of the door or gate, a pressure-sensitive sensor is activated. The control stops or reverses the automatic closing movement. Our pressure-sensitive guards for main and secondary closing edges are used in the following areas:
Sliding gates & speedways
High-speed doors & sectional doors
Rolling gates & barriers
Doors & revolving doors
Slatted windows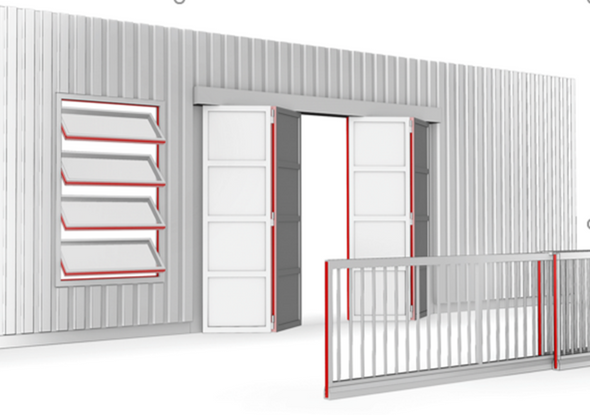 Wireless signal transmission
The need to better secure land and buildings means that doors and gates have to open and close faster and faster. This places high demands on the safety components on a gate or fence and therefore also on the signal transmission from the safety strips to the control system.
RB3 transmitters and receivers
Wireless signal transmission consists of a transmitter for processing the signal from the switch strips and a receiver for transmitting the output signal to the controller. As soon as the switch strip is energised, the system reacts to this signal and stops the movement of the gate or fence.
Due to its high compatibility with all common motor control systems, Mayser's system is universally applicable and can easily be retrofitted. The system is easy to set up and configure. The system complies with EN ISO 13849-1:2015, category 2, PLd. Certified by TÜV NORD CERT GmbH.
Safety edges and sensor profiles
Switch strips and safety edges are used to secure bottlenecks at machines, automatic sliding gates, doors and access systems. Mayser is the sensor specialist for automatic doors and gates, public transport and industry.
Customised switch strips
Mayser has different types of switch frames in its product range. There are custom-made switch lists based on customers' wishes and needs, but you also have the option of making your own custom-made switch list. The DIY (Do It Yourself) SP series link frames are easy to assemble yourself without tools.
DIY switch strips and sensor profiles
Switching mats, safety mats and pressure mats
Safety mats are used to detect persons or objects on a defined surface. Safety mats, also known as pressure mats, are used as a safety zone around robots or as a safety zone when loading or operating a machine. In machine safety, it often happens that other safety components are not applicable and the use of a safety mat is the best solution.
Different shapes and sizes
Safety mats can be made in different shapes and sizes with multiple zones and colours. Due to the robust materials used, a long service life of the detection mats is guaranteed. Safety switch mats can be made in a smooth structure or with anti-slip studs. Run-up rails and edge profiles are available in various lengths.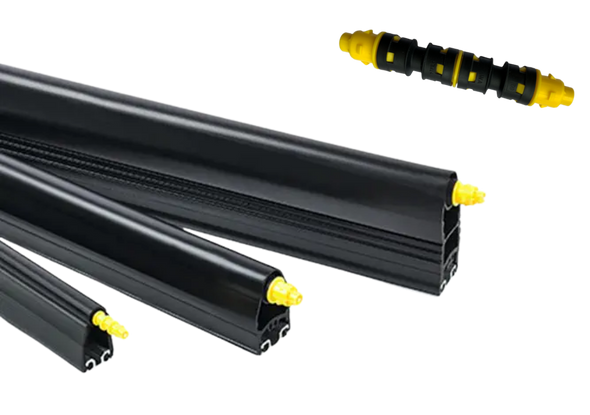 Safety edge with NC contacts
n addition to sensor profiles with NO (Normally Open) contacts, Mayser also has a switch list with NC (Normally Closed) contacts. This list is designed with integrated switching contacts in the rubber profile.
When the switch strip is activated, a mechanical contact is broken. This NC switch strip is connected directly to a safety relay.
At least two contact elements have to be broken to give a signal.
Application areas NC safety switch strip:
Folding doors
Rolling doors
Automatic gates
Barriers
Revolving doors
AGVs
Safety lists on hazardous machines
Safety bumpers
Safety bumpers are made of soft foam with a special cover, equipped with an integrated sensor for (dis)activation in dangerous situations. The bumpers work according to the normally closed and normally open principle.
The soft foam in the bumpers protects people from accidents and injuries and also prevents damage to objects and machinery during both long and short braking distances.
Ground Support Equipment (GSE)
The aerospace industry often faces the challenge of protecting personnel and passengers and preventing damage to machinery and equipment.
Loading and unloading an aircraft is a typical example. Mayser provides the right safety technology for this, for example the Safety Shoe. All Mayser's products comply with International Air Transportation Association (IATA) standards for operational safety.
Video: Mayser public transport applications