Switch strips and Safety edges
Safety edges for doors and gates
Switch strips and safety edges are used to secure bottlenecks on machines, automatic sliding gates, doors and access systems. Switch lists are also called bump lists or bump strips.The switching element is located at the top of the rubber, so less force is needed to make the list switch. Mayser is the sensor specialist for automatic doors and gates, public transport and industry. Read more about Mayser link frames in the application example.
Tailor-made safety edges
Mayser has different types of link frames in its range. For example, there are pre-fabricated link frames that are delivered to size according to the customer's specifications. This could, for example, be a standard link frame for a 1800 mm sliding gate or a curved link frame in a different colour that perfectly matches the design of an AGV.
Especially for customers who like to determine the length of the switch frame themselves, Mayser has the DIY (Do It Yourself) switch frames. These sensor profiles are supplied in various lengths as a kit with all loose parts for self-assembly. For wholesale customers, these profiles are supplied in rolls so that the customer can easily assemble and mount the DIY SP switch frames themselves without tools.
Miniature safety edges
Mayser's miniature switch strips (EKS) are specially developed for applications where only low installation heights are possible and where a short response time is required. Miniature trip strips are used, among other things, in shielding dangerous edges of automatic doors and windows as anti-jamming sensors.
Small size, high reliability
Miniature switch strips are also ideal for use as safety sensors for machine builders, on electric vehicles, AGVs, medical equipment and in the automotive industry.
The miniature switch strips are easy to bend and ideal for laying in a bend or corner. This ensures there are no dead zones in your application. For customer-specific solutions, it is possible to assemble the switch strip to size yourself.
Example applications switch strips
| | | | |
| --- | --- | --- | --- |
| | | | |
| Sliding gates | Industrial doors, windows and fences | Automation and logistics | Healthcare |
| Switch strips as anti-clip sensors on automatic sliding gates and safety gates. | Switch frames are ideal to apply to industrial doors, windows and fences. | Switch lists ensure safety of Automated Guided Vehicles (AGVs). | In healthcare, (miniature) circuit boards are used on modern scanning equipment. |
Modular switch strip DIY for door and gate applications (Do It Yourself)
Versatile, user-friendly and suitable for many different types of gates. The smart connector system of Mayser's SP DIY sensor profile series makes mounting and fixing safety strips on roller doors or gates quick and easy.
Safety edges for industrial doors and gates
With the SP sensor profile series, Mayser has developed safety rails for the industrial door and gate market that are specifically tailored to the high demands for safety and versatility in this industry. The profiles, recently added to the product line, are designed for quick easy assembly and mounting without the use of glue or additional tools.
The use of fewer components and a well-thought-out connector system enables quick assembly of these safety rails on sliding doors, swing doors, sectional overhead doors, roller shutters and folding gates (speedgates). Read more about the SP sensor profiles safety strips.
DIY switch strips - Sensor profiles - Safety Edges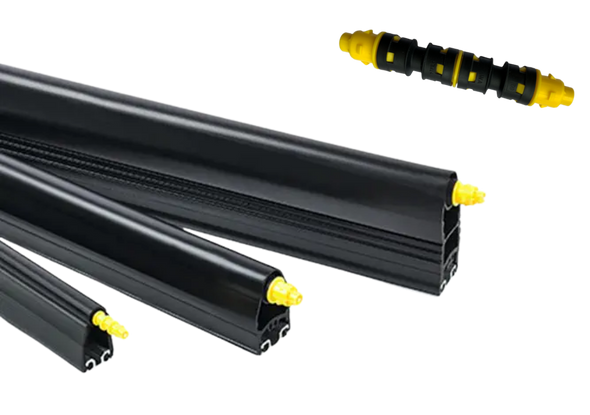 Switch strips with NC contacts - Safety edge
In addition to sensor profiles with NO (Normally Open) contacts, Mayser also has switch frames with NC (Normally Closed) contacts. These lists are designed with integrated switching contacts in the rubber profile.
When the switch strip is activated, a mechanical contact is broken. NC switch strips are connected directly to a safety relay.
At least two contact elements must be broken to give a signal.
Application areas NC safety list:
Folding doors
Roller shutters
Automatic gates
Barriers
Revolving doors
AGVs
Safety lists on hazardous machines
Wireless signal transmission for switch lists
The need to better secure land and buildings means that doors and gates have to open and close faster and faster. This places high demands on the safety components on a gate or fence and therefore also on the signal transmission from the safety strips to the control system.
RB3 transmitters and receivers
Wireless signal transmission consists of a transmitter for processing the signal from the switch strips and a receiver for transmitting the output signal to the controller. As soon as the switch strip is energised, the system reacts to this signal and stops the movement of the gate or fence.
Due to its high compatibility with all common motor control systems, Mayser's system is universally applicable and can easily be retrofitted. The system is easy to set up and configure. The system complies with EN ISO 13849-1:2015, category 2, PLd. Certified by TÜV NORD CERT GmbH.
More safety products from Mayser
Read more about safety products and high-reliability safety sensors from Mayser.