ReeR Safety - Safety in and around your machine
ReeR Safety is a specialist in the field of machine safety and specializes in opto-electronic sensors and controllers. A specialty of ReeR is the creation of a safety zone by means of light screens or laser scanners. In combination with ReeR Mosaic safety PLC and the associated safety controllers.
Thanks to the experience of ReeR Safety in the mechanical engineering, automotive, robotics and palletizer sectors, ReeR Safety has a solution for every safety application that fits a specific situation.
ReeR Safety was established in Turin, Italy in 1959. ReeR Safety now has more than 100 employees.
ReeR Safety assortment of safety components:
Safety light curtains - ReeR Safety
ReeR Safety light curtains protect people and machines against unsafe situations. The ReeR light screens are suitable for finger protection, hand protection, limb protection and walk-in protection. With a ReeR light screen you are able to secure a zone against unwanted access. With ReeR Mosaic safety PLC it is easy to set up your own safety system.
ATEX light curtains
In addition to standard light screens for standard applications, ReeR has light curtains suitable for ATEX environments. If safety light curtains are used in the open air or in rooms where condensation occurs, ReeR has heated light curtains with a watertight housing. Read more about safety light curtains.
View safety light curtains in the webshop and read more specs
Muting complicated? Not with the Safegate - ReeR Safety
The muting functions in the new type ReeR Safety Safegate have radically improved. An example is the part were you mute the guarded height whereby the safety level of the application can be strongly increased.
Detectoin of difficult objects
The integrated muting lamps, smart accessories for mounting of the muting function, photocells and unique photocells with 5 beams for detection of difficult objects. Read more about muting light curtains.
ReeR Safety - Measurement automation light curtains
ReeR Safety measurement light curtain can detect and measure an object. It is possible to connect the ReeR Safety measurement automation light grids to a PLC that provides you with real-time information.
Resolution of detection light screens
ReeR Safety measurement light curtains are available in different beam distances. The number of beams and the beam distance determine the precision. The Micron-series has a measurement light curtains with a resolution of 5 mm to detect small objects. ReeR Safety detection light screens with an analogue output are available in 0/10 VDC or 4/20 mA. MI B-series has RS485. Read more about Micron measurement light curtain.
Safety PLC - Safety controller- ReeR Safety
Set up a safety system yourself
ReeR Safety Mosaic safety PLC is modular and programmable for securing machines and installations. The safety system is suitable for monitoring various safety sensors such as safety light curtains, laser scanners, photocells, mechanical limit switches, mats, emergency-off buttons and two-hand operation in one flexible system.
Switch components with Mosaic
When composing your safety system and when using ReeR Safety Mosaic, you are not 'stuck' to ReeR Safety. Other safety components can also be connected to ReeR mosaic. The system consists of a master module ReeR Safety Mosaic M1 and a maximum of 7 expansion modules that are connected via the bus at the rear. Read more about safety PLC Mosaic.
Safety PLC - Safety controller- ReeR Mosaic
Application example - Securing robot cell with light curtains - ReeR Safety
A robot cell and conveyor belt with in- and outgoing fork-lift trucks
A robot cell stacks a pallet from a conveyor belt. The pallets are then picked up and moved by a forklift truck. The forklift trucks enter the secured area and then leave the secured area. In addition to ReeR Safety light screens, emergency stop buttons, fence protection with ReeR Safety Magnus RFID switches are also used.
Software - Safety PLC - ReeR Safety
The Safety PLC Mosaic from ReeR Safety is easy to program with the supplied software. The image on the right shows the basic screen of a security system entered in the MSD software. The software works through 'drag and drop'. All different parts can be dragged and moved. Read more about the safety PLC from ReeR Safety.
Mosaic M1S module with 4 OSSD outputs - ReeR Safety
The Mosaic M1 main module of the safety PLC - Mosaic has undergone a transformation. Both visually and technically, the new Mosaic M1S is an improvement over its predecessor. The labels have been replaced with laser engraved information on the outside of the modules. The gray modules have been given a new look: black!
New functions
New features include four OSSD safety outputs (Pld) or two pairs of OSSD outputs (Ple) and the ability to process 128 logical operators, making security applications more powerful. In addition to the Mosaic M1S module, an I/O extension module has been added to the range. The new MI8O4 provides 4 OSSD outputs. Read more about the safety controller from ReeR
Safe inductive sensors
The safe inductive sensors from ReeR Safety can be used for door detection, gearwheel detection for speed monitoring, shaft position detection, end stop robot cells and positioning machines. Machines and robots can be secured to a safety class of PLd or SIL2 with the use of these sensors.
Connect the safe inductive sensor to safety relay
The two safe OSSD outputs can be connected directly to the safety relay "AD SR1" or to the safety PLC "Mosaïc M1". The inductive fail safe sensors all have a degree of protection of IP65 and IP67. There is one version with a protection rating of IP69K that is suitable for use in the pharmaceutical and food industry. The inductive sensors are available in M12, M18, M30 or a block form 40 x 40 mm. Read more about safe inductive sensors.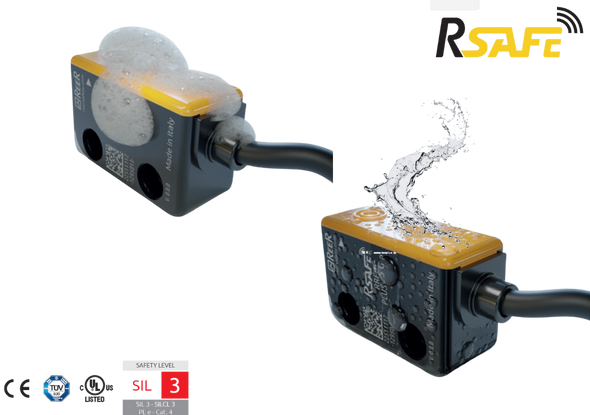 R-SAFE series non-contact safety switches
The R-SAFE series of contactless safety switches uses RFID technology to communicate with authorized actuators. This system helps prevent machines and equipment from being activated if an authorized RFID actuator is not present.
Connecting 16 switches in series
An important feature of this new product is the ability to connect up to 16 RFID sensors in series, resulting in an efficient and cost-effective installation. Through the Mosaic safety PLC, it is possible to read the status of the individually connected RFID sensors in series.
Mosaic Safety Designer (MSD) software
This safety switch is fully mechanically compatible with other RFID safety sensors from ReeR Safety, including the Magnus RFID and Magnus MG "S" series. Additionally, the RFID switches can be seamlessly integrated with ReeR's modular Mosaic safety PLC. The Mosaic Safety Designer (MSD) software enables users to easily design, configure, and manage safety systems, significantly improving the flexibility and scalability of safety solutions. Read more about R-safe contactless safety switches.
Video: R-Safe RFID contactless safety switch - ReeR Safety
Contactless RFID switch - Switching in series
Connection in series, for example for locking doors, is possible in combination with the ReeR Mosaic or ReeR AD SR1. In this way a safety level can be achieved up to PLe according to EN ISO 13849-1.
Safety system - Safelock - ReeR Safety
The Safelock safety system from ReeR Safety is a safety switch that is used to protect personnel when opening doors and gates that give access to hazardous areas. The safety switch works by monitoring and interrupting the safety circuit during hazardous scenarios. The Safelock safety system locks and unlocks access to hazardous areas and guarantees safety until the danger has passed.
Available models
The SLK-M switch is activated by a spring and unlocking takes place by applying voltage / current. The SLK-E works in reverse. The safety switch is activated by voltage and released by activating a spring.
View safety system and safe locks in the webshop
Safety photocells ILIONN - IL10 - IL20 - ReeR Safety
ReeR safety photocells can be installed or installed in very compact spaces, thanks to the compact size of the security system, while the possibility to use more photocells offers the maximum flexibility when positioning the protective beams.
Mosaic security controller
The photocells must be connected to the control unit, for example: standard AU SX or AU SXM control unit with muting or Mosaic for forming a security system that can consist of 1, 2, 3 or 4 photocells with a single beam. In case of connection with Mosaic safety controller, the number of photocells depends on the configuration of the security system.
Speed monitoring relay - ReeR Safety
When the number of revolutions of a machine becomes too high, a dangerous situation can arise and the safety of man and machine is jeopardized. To protect machines and persons against unsafe situations and to comply with the set standards, a speed monitoring relay is used.
Encoders and inductive sensors
The speed can be monitored using sensors such as encoders or inductive sensors. There are also speed monitoring relays that are connected directly to a motor without the intervention of sensors. Read more about speed monitoring with speed monitoring relays.