Janitza energy meters monitor your energy quality!
Janitza is a specialist in the field of development and production of universal energy meters, power analyzers and reactive current compensation systems.
A Janitza energy meter offers a solution if you want to monitor your power quality on a sample basis or on a constant basis. With the knowledge and experience of fortop, the products of Janitza and the software of fortop projects, we offer both standard and customized solutions for energy control issues.
Eugen Janitza GmbH was founded in 1961. In 1986 it founded an independent subsidiary: Janitza Electronics GmbH. Two years later, Janitza Electronics GmbH presented the world's first power controller to display harmonic values.
Range of measuring equipment from Janitza:
All-in-one analyzer UMG 801 - Janitza
The all-in-one analyzer UMG 801 from Janitza is the standard solution for measuring low voltage main distributors and network stations up to 1000V CAT III. 2 x 4 current transformers can be connected to the basic unit, so that a transformer field and a generator field (or another form of generation) can be measured with one unit.
Properties Janitza UMG 801:
Basic unit with 8 current measurement inputs, 2 RCM inputs and various I / Os
Measure up to 92 current measuring channels with one system
OPC UA, Modbus TCP / IP, Modbus RTU / RS485
High sampling rate (51.2 kHz) and harmonic analysis up to 127th order
Energy meter for measurement according to the standard - Janitza
With the power quality analyzer from Janitza you are able to constantly measure the quality of your energy. It is a class A energy meter that measures according to the standards EN 61000-4-7, EN 6100-4-15, EN 61000-4-30.
Standard applications
Since the arrival of the PRO series, the energy meters are standard equipped with apps. With these apps you can log into the meter from a distance and you have a dashboard on which you can immediately find the most important information such as.
Continuous monitoring
The energy meter has a 5th and 6th current transformer inputs through which the energy meter can be used for continuous monitoring of earth fault currents and measures short interruptions, transients, peaks and harmonic measurements up to the 63rd order. Read more about the power quality analyzer UMG 512-PRO by Janitza.
Which Janitza energy meter do you choose?
Janitza energy meters come in different shapes and sizes and have different functions. If you are familiar with energy meters, you can easily distinguish between the different energy meters. But what if you are not? With 'Choose the right energy meter' you have an overview of all meters and functionalities. Which energy measurement device suits your application?
Janitza UMG 96RM universal energy meter
The Janitza UMG 96RM is a compact and very powerful universal energy meter for applications in low and medium voltage distributors.
Distinction between communication protocols
The series consists of a wide range of products, whereby a distinction is made primarily between communication protocols. It is possible to request the information via the communication protocols from the energy measurement devices. Read more about universal meters from Janitza.
The Janitza UMG 96-RM series have the following different communication protocols and interfaces:
RS232/RS485 (Modbus)
Ethernet
USB
Profibus DP
M-Bus
PROFINET
BACnet IP
What's new about the janitza PRO series?
Energy meters have been provided with communication protocols for years. Fortop projects make software, including apps, with which you can gain insight into the status of your power quality. The new Janitza PRO series comes standard with apps that give you this insight. Through a web-based dashboard, you gain insight into the most important Power Quality parameters.
Janitza Energy meter for measurement according to IEC61000-4-30 and EN50160 standards
The Janitza UMG 605 is a Power Quality Analyzer, kWh meter with eight rates, data logger and PLC web server in one. In addition, short interruptions, transients, switch-on currents and harmonic components up to the 63rd order are accurately recorded and reported via e-mail or SMS.
2000 reading every 200 ms
2000 readings can be determined every 200 ms. The energy meter has four voltage and 4 current inputs. Read more about Janitza UMG 605.
The main energy meter for your installation
The Janitza UMG 509 power analyzer is the standard energy meter for every installation. The energy meter detects leakage currents at an early stage before the leakage currents cause system failures or even fire. The energy meter has a user-friendly color display.
Voltage dips, peaks and transients
Voltage dips, peaks and transients that can cause problems are signaled by the energy meter. In addition, the energy meter can measure consumption in kWh, kVAh and kvarh. Read more about Janitza UMG 509.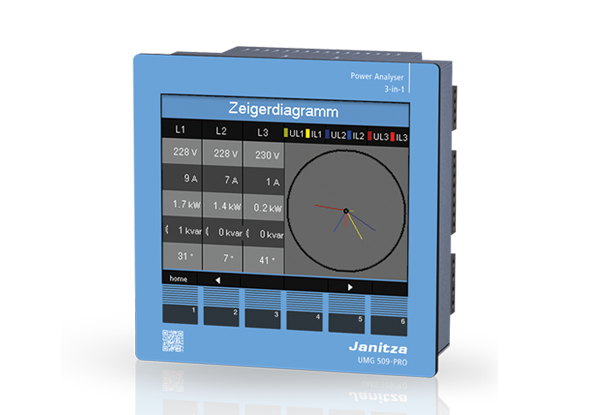 Make data from energy meter transparent
Measurement data from energy meters is raw data. Janitza GridVis turns raw data into useful information.
Create self-assembled reports
With the free basic version you are able to link data from energy meters, data loggers and cos-phi controllers to the software and to analyze them in bar charts, graphs and to create reports.
Janitza DIN rail energy meter
The Janitza UMG 604-PRO is a DIN rail energy meter for monitoring and monitoring electrical installations. The energy meter has 4 current and 4 voltage channels.
Janitza UMG 604-PRO
A powerful microprocessor makes it possible to determine 800 measured values per measuring cycle. The energy meter can measure short interruptions, higher harmonics up to the 40th order and transients. Read more about Janitza UMG 604-PRO.
MID kWh meters - Janitza
1 and 3 phase consumption meters
The B21 from Janitza is a 1 phase kWh meter with direct measurement up to 65 Amps. The Janitza B21 kWh meter is MID and IEC approved. The B23 series from Janitza is a 3 phase kWh meter (3 + N) with direct measurement up to 65 Amps. The Janitza B24 series kWh meters are 3 phase meters for indirect measurement (5A) with the use of current transformers. Read more about kWh meters from Janitza.