energy analysis software - Janitza Gridvis
Your measurement data insightful
Janitza GridVis is an energy management tool that collects data from various consumption meters and power analyzers. The software converts this data into understandable reports, visualization and alarms.
Preparation energy reports or prevention of production outages
The measured parameters are collected and stored and can, inter alia, be used for the preparation of (management) energy reports or for the prevention of production outages before actual disruption occurs. The software is modular and suitable for building systems for energy management, load management, power quality monitoring and earth fault monitoring.
Why GridVis?
The software is certified according to ISO 50001. All variables can be monitored with freely adjustable values. As soon as limit values ​​are exceeded, the alarm is reported in the web-based alarm manager and an e-mail can be sent with an alarm message.
Features GridVis® energy analysis software:
Various export functions to Excel, PDF or CSV
Report generator for automatic generation of cost and quality reports
GridVis® is ISO50001 compliant and TUV certified
Fortop offers online support
An integrated package for configuring measuring instruments and analyzing measurement data
With GridVis you can quickly and easily create your own web-based dashboards and overviews with a large number of functions and images, without programming knowledge.
Use the standard reports or create your own reports. The GridVis® software provides a standard function library containing statistics, line diagrams, pie charts, heat maps, CBEMA curves, line writers, tables, Sankey diagrams, essential performance indicators (KPIs), etc. Reports optimized for EnMS and meeting the standards EN 50160 & EN 61000-2-4 evaluation.
Most complete power monitoring software - GridVis® Ultimate
GridVis® is the newest version of the web-based power monitoring software from Janitza, which allows you to create web-based visualizations yourself. GridVis® collects data from various consumption meters and power analyzers. The software converts this data into comprehensible reports, visualizations and alarms.
Measurement data always visible everywhere
The collected data is stored on an external server, so that the data can be accessed at any desired moment, at any location. Janitza GridVis® has three different licenses, of which the Expert version is the most complete.
Janitza GridVis license build-up
Janitza GridVis consists of several variants. The energy analysis software Janitza GridVis is built up step by step, with the different variants having more and more functionality. The different Janitza Gridvis variants:
Essential
Standard
Expert
GridVis® Essential
Configuring Janitza Devices
Manual data downloads for Janitza Devices
Chart function for historical values (min/max/average)
Graphs function
Graph function for dips and peaks
Basic reports and exports
GridVis® Standard
All the functions of GridVis Essential
Server installation
Online recorder for Janitza devices
User management
Web-based basic visualisation for current and historic readings
Automatic PQ reports and exports
EnMS reports and exports
CSV and MSCONS data imports
GridVis® Expert
All the functions of GridVis Standard
Alarm management
Sankey diagrams, KPI's and heatmaps
Online recorder for "non-janitza" devices
OPC-UA Client
Comtrade, MSCONS data exports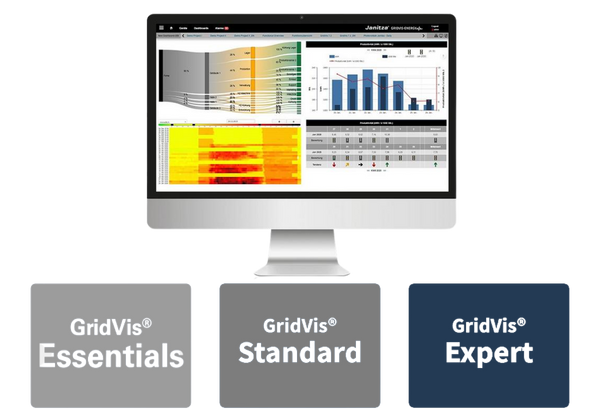 GridVis® tutorials
Visit the GridVis® e-learning portal with tutorials, information, short introductions and useful tips.