Capacitive sensors - Capacitive proximity switch
Capacitive sensors can detect both metal and non-conductive materials such as glass, paper, oil, water etc. Capacitive sensors are insensitive to dust and dirt and offer maximum insensitivity to magnetic interference. Capacitive sensors are ideal to use for level measurement of liquids and monitoring of solid materials. Rechner Sensors has special level sensors, the range for level measurement.
Detection range
Capacitive sensors have a detection range of 1 to 25 mm. Capacitive sensors are ideal for harsh conditions with short switching distances and for detection of non-metallic objects.
In addition to the materials to be detected, the following factors are important for the choice of a sensor type:
Switching distance
Installation type: concise / non-concise
Construction: cylindrical / rectangular
Connection: connector / cable
Output type: PNP / NPN
Programmable analog sensor for level measurement
The capacitive analog sensors perform level measurement over a certain range. The analog level sensor can detect contamination. The analog level switch also shows changes in the dielectric constant (DC).
Switching in the PLC
When changing the product or liquid to be measured, the programmable analog level sensor can easily be switched in the PLC. The sensors are equipped with EasyTeach by Wire (ETW).
Multifunctional capacitive approach sensor CIP/SIP up to 121ºC
The active surface of the capacitive proximity sensor is designed in such a way that caking materials disappear better and faster from the surface. The level sensor is often used in the chemical and pharmaceutical industry and food industry.
Application for different materials
One capacitive proximity sensor can be used for different materials. The level sensor is equipped with classic or semi-circular electrodes. The active zone enables CIP / SIP up to 121 ºC. Depending on the model, the level sensor can withstand +100 ºC.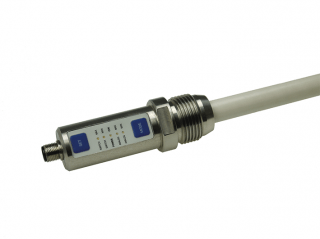 Capacitive level sensor for analogue level measurement
The capacitive level sensor for analogue level measurement from Rechner Sensors has two switching points in addition to the analogue output. The analogue measuring range and the two switching points can be set by the user. The two switching points can be programmed in or out of the set analogue measuring range.
3-electrode measuring principle
This compact level sensor with built-in amplifier is based on the 3-electrode measuring principle patented by Rechner Sensors. The measurement takes place between the measuring electrode in the rod and the metal wall. If the wall is not made of metal, an extra electrode is used.
The i-Level level sensors are set using the EasyTeach principle. The sensor has an intelligent PNP / NPN recognition. Opener or shutter principle are programmable. The analogue output signal can be 0-10V or 4-20mA. If required, variants with EasyTeach by Wire (ETW) or CANBus communication are available.
Level measurement of bulk goods
The capacitive level sensor is suitable for level measurement of bulk goods and liquids. Thanks to the additional switching points, a MIN / MAX level can also be monitored.
Prevent downtime and faults - Smart Paddle
The Smart Paddle from Rechner Sensors is a capacitive sensor. The level sensor is for the level measurement of bulk goods and is designed for liquids with a dielectric constant of 2 to 80. Connect the level switch electrically and the proximity switch is ready for measurement.
The capacitive sensor has no moving parts and is maintenance-free. The level switch is ideal for applications where rotating sensors, vibrating forks and mechanical switches are used. Materials with a dielectric constant outside the range of the level switch there is a variant with EasyTeach-by-wire principle.
EasyTeach-by-wire
For the materials with their dielectric constant falling outside the range of this sensor a variant with the Easy Teach-by-wire principle is available. The LCP-material of the housing is resistant and suitable for use in the food industry. The process connection is G 1/2 ". Rechner offers a wide range of adapters and welding sockets available.
Features Smart Paddle capacitive sensor
High Performance function, "Quattro EMC Protect" electrical protections
Made of food contact safe material LCP (FDA conforming material)
Safe for CIP/SIP high temperature cleaning (zero-current, 121 °C) for the pharmaceutical industry
Suitable for high pressure (10 bar, 145 PSI)
Capacitive level sensor for adjusting the fill height
With the KFX TrueLevel from Rechner Sensors you have a level sensor with all the features in one housing for controlling the filling height of tanks and hoppers.
One setting for commissioning
With this level sensor, all electronics are integrated in the G1 "mounting head. Due to the patented three-electrode concept of Rechner Sensors, each sensor has a reference area for compensating the different liquids (even at low values ​​such as ≥ Ɛr 1.2). Read more about the KFX TrueLevel capacitive level sensor.
Analogue capacitive level sensor with probe - integrated logic - KF0644 Rechner Sensors
Capacitive sensors ATEX -55°C to +125°C
Capacitive sensors are implemented in concise and non-concise versions. ATEX versions are required for harsh conditions. ATEX capacitive level meters are resistant to temperatures from -55 ° C to + 125 ° C. In terms of output you can choose between NPN / PNP, NO / NC, namur and relay.
IP69K seal
For the food and pharmaceutical industry there are variants with an IP69K seal. With the EasyTeach function the sensitivity of the sensor can be adjusted.
Capacitive sensor for leakage control
The Rechner KAS-40-LEAK-PTFE-N is a capacitive sensor for leakage control and alarming for containers and pipelines. The capacitive sensor can be mounted in 'drip trays' of plastic, glass or metal. The capacitive sensor has a PTFE metal housing of Ø 38 mm. The sensor is suitable for clean conditions such as the chemical and semiconductor industry.
Characteristics LEAK capacitive sensors:
Type: KAS-40-LEAK-PTFE-N
IP67 and ATEX 2G
Metal housing PTFE
2 mm switching distance
Capacitive sensors - Leak detection sensors
Capacitive sensor EasyMount
Capacitive proximity switch
The 26-series capacitive sensors from Rechner Sensors are High Performance (HP) sensors with unique characteristics in terms of size and shape of the sensor. The 26-series sensors perform better than any sensor when it comes to ignoring material accumulation. Without moving parts, the 26-series sensor distinguishes itself from other picky level sensors such as: vibrating rods, tuning forks and paddle wheels that are sensitive to cavitation, bridging and jamming of material accumulation. The 26 series has two models: 1 model for high dielectric materials (such as ketchup and bread batter) and 1 model for everything else (eg cereals, flour and alcohol products).
High Performance line
High-quality capacitive sensors are equipped with Rechner's leading Quattro EMC protection against interference voltage, electrostatic discharge, electromagnetic radiation and temporary bursts. The High Performance line also has superior drift characteristics of the temperature built into the sensor, so that the machines continue to work accurately on the coldest nights and on the hottest days. In addition, High Performance Sensors are linearly optimized so that they detect a large number of dielectric products at the same distance. This is useful if your product can have variations in materials or in grain size: such as in mixed grains or mixed plastics. All these functions translate into a much more stable signal for you, the user.
Designed for bulk materials and liquids
The 26 Series Capacitive Level Sensor by Rechner Sensors is designed for the level control of bulk materials and liquids. The housing material is PEEK with a surface quality Ra of 0.8 µm. PEEK is mechanically very robust, has an excellent chemical resistance and is allowed to be in contact with food. The 26 Series Capacitive Level Sensor is EHEDG certified.

The capacitive sensor has no moving parts and is therefore not subject to wear or tear. It is ideal for applications where traditionally Rotary Switches, Vibrating Forks or Mechanical Switches are being used.

The sensor has a G 1/2 inch process connection which can be used with a large range of accessories like welding brackets or ÑVarivent N DN 50" flanges that are offered by Rechner.
Features
One setting for different materials

Classical vs semicircular electrodes: the shape of the housing is adapted for optimal detection

The sensors are available in different lengths and dimensions, such as M22, M30,

M32 and

1 "

The range of the

active zone of the sensor has been developed so that CIP / SIP to 121 °C is possible.
Ambient temperature depending on the model up to 100 oC
Capacitive sensor - Sensitivity adjustment potentiometer - Ready for use - Rechner Sensors
Operating instructions for non-bonded capacitive proximity sensors - Rechner Sensors