Colour sensors
Colour sensors detect colours by emitting light (RGB, red, green, blue) to a surface. The colour values ​​are calculated from the reflecting beams and compared with previously stored reference values. In the past 20 years, SensoPart became specialist in detection, positioning, identification and recognizing of measuring colours and contrast. Sensopart develops and produces a wide range of products for standard applications but differentiates with sensors for specialistic applications.
Colour sensor with internal distance measurement
The high-end colour sensor can detect colours at different distances through internal distance measurement. Detecting and counting multiple colours within one application is no problem. The coulor sensor can store 12 different colours.
Colour sensor with flexible colour detection and unique internal distance measurement
The colour sensor FT 55-CM is the ideal sensor for challenging colour detection and sorting tasks. There are six colour sensor versions available for different applications, namely: colour detection of auto fuses, detection of glossy blister packs, distinction between polished and non-polished metal surfaces, film detection on glossy surfaces and detection of lids or labels.
Intuitive sensor setup
The colour sensor Sensopart FT 55-CM can store up to 12 colors. The colour sensor has an intuitive sensor setup with integrated LCD screen. Configuration and reading is possible via I / O-Link. The color sensor has a degree of protection of IP67 / IP69 and is Ecolab UL certified. Read more about colour sensor for storing 12 colors.
Colour sensor FT 55-CM with unique internal distance correction - Remembers 12 colours
Contrast sensor with very high positioning accuracy
The SensoPart contrast sensor FT 25 can detect the slightest contrast differences with its high accuracy. The sensor is easy to align, thanks to the easily visible light point. The housing is many times smaller than the standard variant. The contrast sensor FT 25 has a very high positioning accuracy when scanning 10 μs. Despite smooth and wavy objects, the contract sensor has a very robust effect.
Variants FT 25 series | IP69K
There are different variants FT 25 contrast sensors. Sensors with white light LED (FT 25-W series), red light laser (FT 25-RL) and RGB diode (FT 25-RGB). Contrast sensors are mainly used for printed marking detection in fast processes and in printing and packaging industry. The more important it is that the used energy scanner is absolutely reliable and works without problems. The FT 25 series has a protection class of IP67 and IP69K, which means that the contrast sensor is resistant to acid and cleaning with a high pressure cleaner of 100 bar at 10 cm distance.
Teaching the FT 55-CM Colour Sensor - SensoPart
Luminescence sensor with robust, glare-free operation - UV diode
The luminescent sensor FT 50 C-UV of SensoPart detects luminescent materials in paper, oil or glue by using UV diode. Due to the precise, small light point, the luminescent sensor has a maximum positioning accuracy. The plug is rotatable for easy integration into technical installations and machines.
Invisible detection
The luminescent sensor has a robust, glare-free operation. UV diode is not visible with the normal eye. When brands on a product are meant to remain invisible, the luminescence sensor offers the solution. Read more about luminescence sensors.
Colour sensor with 3 switching outputs - LED (white)
SensoPart's colour sensor FT 50-C reliably detects colours despite fluctuating scanning distances thanks to patented optical technology. The colour sensor can distinguish 3 colours via 3 switch inputs, even the smallest colour differences are reliably detected by the colour sensor FT 50-C.
Suitable for all industrial colour detection tasks
Thanks to the high degree of colour selectivity, this colour sensor is suitable for almost all industrial colour detection tasks. Colours are easy to learn through the Teach-in button or via control line.
Recognize coloured caps in a filling station
A white light contrast sensor SensoPart FT 50-C uses the colour of the cap to check whether the supplied cap is actually the right cap on the bottle.
High colour sensitivity independent of variation in the viewing distance
Accurate colour detection at (weld) seams of metal or plastic
Very reliable, even with vibrating bottles or objects
Teach-in of a single colour or complete colour range.
With three different light spot shapes
Drukmerkdetectie op eindloze verpakking
With a contrast sensor SensoPart FT 25-RGB, the cutting position is determined on the basis of a print mark.
Resolution of 30 contrast steps
Reflecting film is also reliably recognized
Insensitive to waving material and vibration
High switching frequency for precise positioning
Comfortable teach-in operation with feedback of signal strength / contrast quality
Small housing
Automatic selection of ideal LED colour depending on the taught-in contrast
Aanwezigheidscontrole bijsluiter
A luminescent sensor SensoPart FT 50 C-UV recognizes the package leaflet of the medicines. Here, for a reliable detection, use is made of the luminescent properties of the paper.
Extremely accurate recognition at varying distances between sensor and object through patented sensor concept
Suitable for narrow packaging thanks to small light spot
Small, compact housing
Large variation in viewing distance ensures reliable detection
LED control in automotive production
Colour vision camera controls the colours of LED lighting in the dashboard of a car. The vision camera is equipped with LED lighting so that the colour of a lamp in the dashboard lights up. The vision camera has integrated software that is configured by means of a PC or tablet. Read more about Vision Cameras.
Configure the requirements you set yourself through configuration
No programming required, just configure it.
Recognition of active (illuminated) colours and 'non colours' (white, gray, black)
High detection accuracy even with smallest differences in tint
To be configured using test images. The test images are loaded into the software so you do not need to configure the camera on site.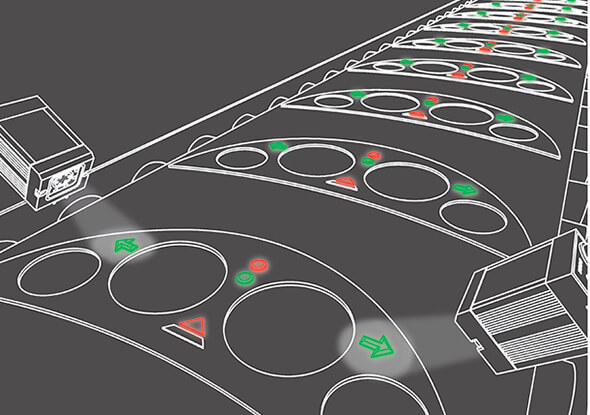 HOWTO SensoTune - Use SensoVisualize configuration software for sensors with IO-Link