Sensopart - Industrial sensors and vision camers
In the past 20 years, SensoPart became specialist in detection, positioning, identification and recognizing of measuring colours and contrast. Sensopart develops and produces a wide range of products for standard applications but differentiates with sensors for specialistic applications.
Most of the SensoPart products by fortop are part of the category Vision & Sensors. A added value of SensoPart products is that not only standard but also provide custom made solutions. For every customer question, we have right sensor!
In 1994 Theodor Wanner found SensoPart in Wieden, Germany. In 2016, SensoPart has more than 150 employees worldwide.
Sensopart vision camera - VISOR® - Best in it's class!
VISOR® series Vision systems
Never before have vision sensors been so efficient. Easy to use and intuitive. With a few mouse clicks is the visor sensor ready for use. The Visor®-technology of SensoPart is a simple and effective solution for the most difficult automation tasks. Read more about machine vision camera's and vision systems.

With the new BLOB detecion (Binary Large Object) of SensoPart are you able to evaluate complex like: positioning, counting, sorting and face-up/face-down recognision. Read more about BLOB function.
Transparant and dark objects - SensoPart Blue light
Detecting black, absorbent objects, extremely dark or transparent objects can cause a challenge. A normal sensor with red LED light or laser light does not always offer a solution.
SensoPart Blue light sensor
SensoPart Blue Light has a blue light spot that is more resistant to dark objects that absorb light or against transparent objects that reflect light. Read more about detection of transparent or dark objects.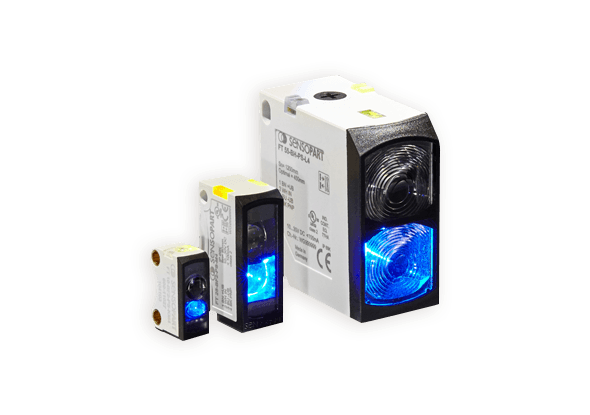 Miniature sensors with LED - SensoPart
The SensoPart F 10 series is a miniature sensor, the smallest laser sensor in its class. The miniature sensor is also available with LED light. With background suppression it is possible to set the range of the sensor. The size of the sensor is only 21 x 14 x 8 mm.
F 25: For every application the right sensor - SensoPart
The F 25-series is a serious photocell. Not only because of the wide range of variants available for most applications! The F 25-series is available in laser and LED versions.
F 25-series contrast sensors
Contrast sensors work according to the principle of energetic reflection and detect gray scale differences on matt, glossy or transparent objects and surfaces.
Read more about sensopart F 25
Color sensor FT55-CM with internal distance measurement - SensoPart
Due to the wide scanning range in combination with the flexible color detection function, the FT 55-CM color sensor is suitable for a large number of applications. The internal distance measurement makes this sensor unique. The FT 55-CM from Sensopart easily recognizes one specific color at different distances with this distance measurement. Read more about FT 55-CM color sensor.
Ideal sensor for challenging color detection
The FT55-CM is the ideal sensor for challenging color detection and sorting tasks, for example in machinery, automotive industry, plastics, pharmaceutical or packaging industry. There are six versions available for different applications.
The FT 55-CM can detect color from auto insurance, glossy blister packs, distinguish between polished and non-polished metal surfaces, film detection on glossy surfaces and detection of lids or labels.
The color sensor Sensopart FT 55-CM is characterized by storing up to 12 colors, gloss suppression (depending on the model), intuitive sensor setup with integrated LCD screen, configuration and reading via IO-Link and stable processes with non-flat objects thanks to the trigger mode. Read more about color sensors.
Vision camera for robotic applications - SensoPart
The robotic vision camera is UR-certified and can easily communicate with a Universal Robot using the URCap. Special features of the robotic vision camera include the free-gripper space and the calibration function. Calibration is done using the URCap software and calibration plate. In addition to using the calibration plate, it is also possible to calibrate the vision camera using the 'point-to-pair'. Read more about robotic vision cameras.
Variants robotic vision camera
The robotic vision camera is available in different light sources; laser and LED infrared, LED red and LED white. The robotic vision camera is available in series V10 and V20. The robotic vision camera is standard equipped with a built-in lens. For specific applications there is a different lens, a C-mount. The robotic vision camera has integrated and standardized interfaces (ProfiNet, EtherNet / IP, TCP / IP).
Compact ultrasonic sensor with sound code - SensoPart
The ultrasonic sensor with sound cone UT 20-S from SensoPart has a very compact cubic shape. The narrow sound cone allows objects to be detected through the smallest openings and drilled holes with a diameter of less than 5 mm.
Sound cone for special applications
This makes the ultrasonic sensor ideal for special applications, such as level measurement in microplate wells in medical analysis systems or for scanning printed circuit boards in the electronics industry. The ultrasonic sensor has a switching distance of 150 mm. The UT-20 variant has a switching distance of up to 700 mm. The ultrasonic sensors are available with different outputs: NPN / PNP, NO / NC, 0-10V, 4-20 mA or an analogue output. Read more about ultrasonic sensors.
Inductive sensors - SensoPart
Because of the functional principle of SensoPart inductive sensors, the sensors are only suitable for the detection of metal objects. The inductive sensors are mainly used for detection of uniform movements, for example as proximity switches for determining the position of transported machine parts such as saddles or hydraulic cylinders, for measuring rotational speeds on crankshafts of vehicles or as pulse generators for engine ignition.
Reliable, maintenance-free and versatile
Inductive sensors are extremely accurate due to their high repeatability levels. Their simple design and uncomplicated commissioning ensure minimum downtime. Whether it is robotics, assembly and handling, in factory automation or mechanical engineering: SensoPart inductive sensors are reliable, require no maintenance and offer versatile use thanks to the many available housings and dimensions. Read more about inductive sensors.
Fiber sensors and fiber cables
The SensoPart fiber systems are the ideal solution if the installation and operating conditions are tight, hot and dirty. Sensors are protected in a control box or at a safe distance while the fiber heads are mounted close to the objects. Possible areas of application are presence detection in rotating transfer machines, the detection of small electronic components or the level measurement of liquids.
Features of fiber sensors and cables:
Wide range of fiber cables for standard applications or individual customer requirements
Numerous setting options: dynamic teach-in or use of external control cable, speed and precision setting, timing functions
Intelligent mounting solutions for fiber optic sensors and cables for easy installation and adjustment
Typical fork sensors and optical windows
Forks and optical window sensors exhibit characteristic features as a result of their special housing design: thanks to their precise beam guidance, they are particularly suitable for the detection of small parts. The sensors are also easy to assemble because no time-consuming adjustment is required.
Detection of small parts
The fork sensors of the FGL-IK and FGL-RK series detect components from a diameter of 0.2 mm. For example, they are used for detection of small parts on conveyor sections and sleeves or for counting bulk goods on vibration bands. Rotational speed measurement is another typical application.
SMARTPLUG: PLUGIN-INTELLIGENCE!
SmartPlug from SensoPart prevents expensive timing elements or additional controls from being used, because the SmartPlug makes the sensor smarter. Connected to SmartPlug, the sensor takes over additional control functions. As a timer, counter or inverter, for monitoring the frequency, or for delays in delay or drop-out.
SmartPlug is suitable for sensors from all manufacturers with standardized M12 plugs; a special adapter cable is available for connection to an M8 plug. SmartPlug offers its sophisticated electronics in a small, easy-to-handle 60 x 20 mm² plug housing. With its maximum output current of 400 mA, the SmartPlug can also be used as a switching amplifier. SmartPlug: plugin intelligence.
Capacitive Sensors - SensoPart
Capacitive sensors are suitable for detecting all types of metal and non-metal objects. Even very transparent glasses or liquids are easy to detect with a capacitive sensor from SensoPart. Only the dielectric conductivity of the target material is relevant: the greater the dielectric constant of a material, the higher the possible switching distances or the more reliable the detection.
Detect from the outside
Measuring fill levels is one of the classic applications of capacitive sensors because many liquids have relatively high dielectric constants. Under certain circumstances it is also possible to measure from outside the container because capacitive sensors can look through walls, as it were. They are also used for the detection of solids such as wood, paper and plastics.
Great immunity against disruptive factors
They can be found in the most diverse industrial sectors because of their great immunity against disruptive factors of all kinds. SensoPart offers a wide range of capacitive sensors in enclosures for all application areas. Read more about capacitive sensors.
Cylindrical photocells and optical sensors - SensoPart
Sensors in a cylindrical housing offer several advantages compared to the cubic design: On the one hand they are very robust, on the other hand, they can be installed in a particularly simple and space-saving way, thanks to the integrated threading. And, they are also very economically priced.
Design-typical advantages
The new F 18-2 series from SensoPart also offers all of these design-typical advantages, but exploits them even further. Thus, the sensors with a metric 18 mm thread are optionally available in a very stable full metal housing, where the plugs are also made of metal. Two additional housing bore holes and the extensive as well as sophisticated mounting accessories, provide the user with a broad variety of installation options. Read more about cylindrical photocells.