Detection, positioning, identification and recognizing
In the past 20 years, SensoPart became specialist in detection, positioning, identification and recognizing of measuring colours and contrast. Sensopart develops and produces a wide range of products for standard applications but differentiates with sensors for specialistic applications.
Most of the SensoPart products by fortop are part of the category Vision & Sensors. A added value of SensoPart products is that not only standard but also provide custom made solutions. For every customer question, we have right sensor!
In 1994 Theodor Wanner found SensoPart in Wieden, Germany. In 2016, SensoPart has more than 150 employees worldwide.
Best in class
Sensopart Visor® serie
Never before have vision sensors been so efficient. Easy to use and intuitive. With a few mouse clicks is the visor sensor ready for use. The Visor®-technology of SensoPart is a simple and effective solution for the most difficult automation tasks.

With the new BLOB detecion (Binary Large Object) of SensoPart are you able to evaluate complex like: positioning, counting, sorting and face-up/face-down recognision.
TRANSPARENT AND DARK OBJECT DETECTION
Detecting black, extremely dark or transparent objects can cause a challenge. A normal sensor with red LED light or laser light does not always offer a solution. SensoPart Blue Light has a blue light spot that is more resistant to dark objects that absorb light or against transparent objects that reflect light.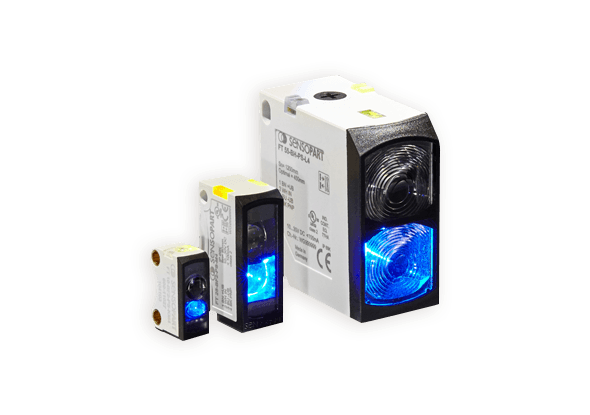 MINIATURE SENSOR WITH LASER LIGHT
The SensoPart F 10 series is a miniature sensor, the smallest laser sensor in its class. The miniature sensor is also available with LED light. With background suppression it is possible to set the range of the sensor. The size of the sensor is only 21 x 14 x 8 mm.
F 25: For every application the right sensor
The F 25-series is a serious photocell. Not only because of the wide range of variants available for most applications! The F 25-series is available in laser and LED versions.
Read more about sensopart F 25
COLOR SENSOR SENSOPART FT55-CM WITH INTERNAL DISTANCE MEASUREMENT
Due to the wide scanning range in combination with the flexible color detection function, the FT 55-CM color sensor is suitable for a large number of applications. The internal distance measurement makes this sensor unique. The FT 55-CM from Sensopart easily recognizes one specific color at different distances with this distance measurement.
Ideal sensor for challenging color detection
The FT55-CM is the ideal sensor for challenging color detection and sorting tasks, for example in machinery, automotive industry, plastics, pharmaceutical or packaging industry. There are six versions available for different applications.
The FT 55-CM can detect color from auto insurance, glossy blister packs, distinguish between polished and non-polished metal surfaces, film detection on glossy surfaces and detection of lids or labels.
The color sensor Sensopart FT 55-CM is characterized by storing up to 12 colors, gloss suppression (depending on the model), intuitive sensor setup with integrated LCD screen, configuration and reading via IO-Link and stable processes with non-flat objects thanks to the trigger mode. Read more about color sensors.
View FT 55-cm color sensors