Miniature sensor with laser light
The only miniature sensor with laser light
That small sensors can deliver great performance is proved by the photo cell series F 10-series by SensoPart. The F 10-series is the first and only miniature sensor based on laser light. Also, the adjustable background suppression makes the sensor, in combination with the small construction type, unique. Thanks to the unique specifications and the easy to use details these compact sensors can be used in almost any application.
User-friendly teach-in button
The F 10-series sensors are the world's smallest laser sensors. The sensors are adjustable via the user-friendly electronic teach-in button or control wire. The sensors are designed as LED and as laser version. Especially for the scanning of solar wafers and highly light absorbing objects, SensoPart has the FT 10-series bluelight version.
Small shape with great performance
The F 10 sensor has a glass fiber-hardened housing with integrated mounting sleeve. The miniature sensor has a size of 8x14.6x21.1 mm. The easily visible LEDs are certainly not typical for housings of this size.
Reliable detection
The light spot of the F 10 laser sensors remains so concentrated that even small parts in the millimeter range are still reliably detected even at long distances, for example a wire with a diameter of 0.5 mm at a distance of 60 mm. The F 10-RLH is the only sensor of its kind with the possibility to adjust the scanning distance.
Simply detection
The laser light makes a preciesly light spot who also detects objects on greaters distances. A sensor with background susspresion can easily detect a wire with a diameter of 0,5 mm on 60 mm distance.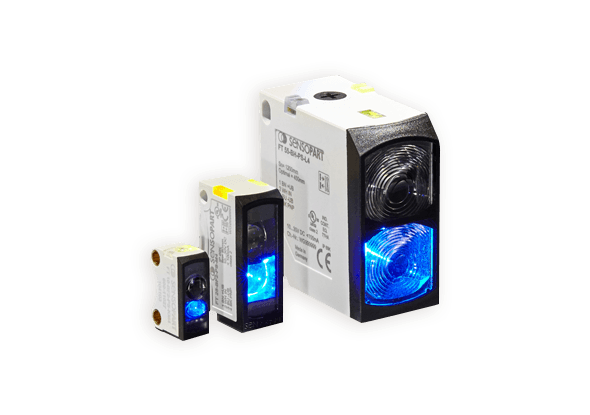 PHOTO ELECTRICAL PROXIMITY SENSOR | BLUELIGHT
The FT 10-BF bluelight photoelectric proximity sensor with background suppression has a fixed scan distance or focus in contrast to the F 10-RLH. The FT 10-BF remains reliable when scanning highly light-absorbing and transparent objects, such as light wafers. With the design of the sensor, incorrect alignment is not possible. Thanks to the dovetail attachment, the sensor is easy to dishonor and adjust.
View FT 10-BF bluelight sensors
Features
Miniatur housing ( size: 21 x 14 x 8 mm)
Bright, preciesly laser light spot for detecting extreme little object.
Easy to install with teach-in function
Object fotocel with adjustable background suspression (available with broad lightspot)
Glass fiber reinforced housing (IP 67) with ecolab-certification
Multiple connection options: M5-connector, M8 pigtail connector or
Meerdere aansluitvarianten: M5-connector, pigtail met M8 connector or fixed cable