Detecting transparent and dark objects with blue light
Detecting transparent or black objects is a huge challenge in many cases. A transparent or translucent object is difficult to detect because of its reflection. In practice, the reflection of one product often leads to multiple detections.
Black or dark objects
Black or dark objects absorb light from the sensor, making it difficult for the sensor to detect objects. SensoPart Blue Light offers the solution in such cases, especially in critical applications.
The Blue Light sensor does not require the installation of a reflector and has a detection range of 2...1200 mm with a protection degree of up to IP69K. The Blue Light sensors are available with fixed focus, adjustable with IO-Link and adjustable via a potentiometer.
Red Light Sensors and Blue Light Sensors
Where conventional red light sensors reach their limit, the Blue Light sensor from SensoPart offers the solution. Instead of a standard red light spot, a blue light spot is used. Due to the blue light the sensor is able to recognise transparent and dark objects.
Detecting objects at an angle
The diagram on the right shows the detection distance and the detection angle.
An object at an angle of 80° can be detected with the blue light sensor at a distance of +/-40 mm. A standard photocell with red light cannot detect the same object or only at a few millimetres.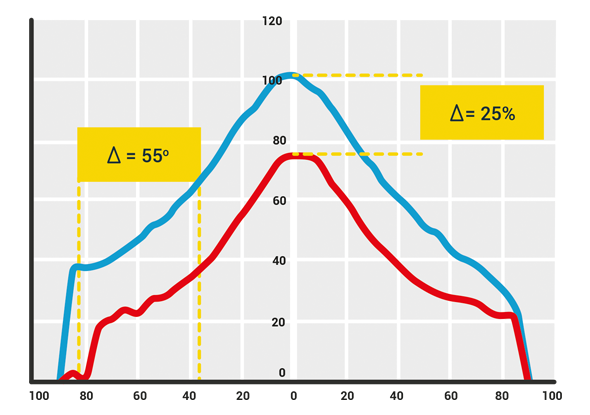 High-performance miniature sensor with two switching outputs
Thanks to its large switching distance and two switching outputs, the new BlueLight miniature sensor FT 10-BHD from SensoPart is suitable for a wide range of applications. And yet the sensor has extremely compact dimensions.
150 mm for white/grey and 120 mm for black
With its compact dimensions of only 21 x 14 x 8 mm, the sensor nevertheless has unique performance characteristics. Not only does it have the largest range on the market, 150mm at white/grey and 120mm at black, but also the scanning range is adjustable instead of fixed focus. Read more about the FT 10-BHD Bluelight sensor.
Tabel met overzicht blue light sensoren
Overview Blue light sensors
Technical information
Product type
FT 10-BF2 / BF3
FT 25-BF2
FT 25-BH
FT 50-BH
FT 55-BH
Type of light source
LED, blue 450 nm
LED, blue 450 nm
LED, blue 450 nm
LED, blue 450 nm
LED, blue 450 nm
Setting
Fixed focus
Fixed focus
Adjustable, IO-Link
Adjustable, potentiometer
Adjustable, potentiometer
Range/switching distance
2…30 mm / 2…50 mm
0…80 mm
0…200 mm
2…300 mm
3…1200 mm
Specifications and datasheets
View
View
View
View
View
Detecting dark, black and shiny objects
While transparent objects absorb little light, black and dark objects absorb the opposite. Detecting dark textiles, shiny black surfaces, LCD screens and other light absorbing objects is a huge task for red light sensors. SensoPart's blue light sensor detects these materials easily and reliably.
Watch the video on how to detect dark and shiny objects.
Detection of transparent objects
Detecting, counting and positioning transparent objects is soon a bridge too far for conventional photocells. Transparent objects such as glass and plastic only absorb a small part of the light and also cause a small difference between the transmitted light and the reflected light in the receiver. It is then an enormous challenge to transmit a stable and clear signal, for example, to automate a bottle filling line.
Watch the video below about detecting transparent objects.
Objects and materials that are difficult to detect
The blue light sensor offers a solution even for materials or objects that are very difficult to detect. Examples are the detection of drops of water, glass objects, transparent foils, highly reflective materials such as magnets and polished metals, mirrors and uneven surfaces. The blue light sensor detects these materials without any problems.
Application examples
Packaging industry
Detection of transparent containers, foils, labels and blister strips.
Medical, laboratory and pharmaceutical industry
Presence of test tubes, syringes and pipettes and position of transparent or dark black racks, trays and microtiter plates.
Automotive industry
Detection of metal parts and black, dark components.
Solar industry
Presence and position of solar panels that are difficult to recognise due to their dark colour.
Food industry
Presence of a (plastic) bottle.
Counting of bottles at the inlet and outlet of filling systems
Pharmaceutical industry
Positioning of test tubes, syringes and pipette tips
Presence detection in the gripper
The compact design and light weight of the FT 10 series Blue Light sensors make them ideal for presence detection in a robot's gripper. Measuring only 21.1 x 14.6 x 8 mm, the Blue Light sensor is perfect for applications in tight spaces.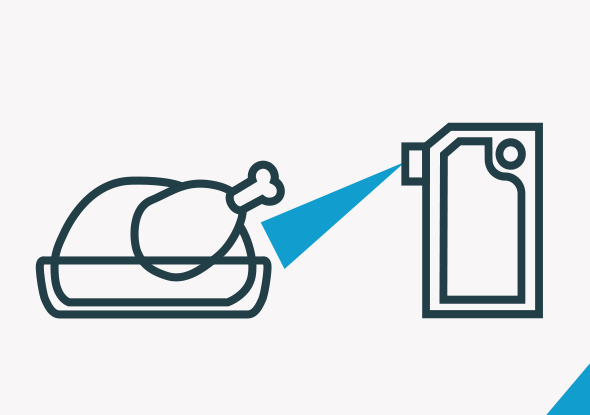 Condensation on sensor due to temperature difference
A chicken supplier had problems detecting the transparent trays in which the chickens are transported. The processing hall is a cool and humid environment, which causes condensation on the sensor. Because of this, the sensor with reflector used could not make a good detection.
The customer suggested using a fibre sensor from another supplier. After testing, the desired switching distance (30 cm) turned out not to be achievable with this sensor.
The Blue Light sensor FT 55-BH from SensoPart solved the problem. The transparent dishes are perfectly detected and by working with a sensor without reflector, cleaning of the sensor is no longer (or to a lesser extent) necessary. The sensor is IP69K, which is desirable in chicken processing to meet the hygienic requirements.
Photoelectric sensors with Blue Light technology
More photocells and sensors from SensoPart
Read more about photocells and sensors from SensoPart:
Detectie van verschillende materialen