Distance sensors and analogue sensors
Automation technology means that fast and correct measurements, accurate positioning and detection of the most diverse materials can no longer be ignored. Whether it is about checking a fill level, determining the diameter of an object, detecting double sheets or controlling an AGV. Distance sensors with analogue switching outputs offer the perfect solution for these applications.
Technologies used for distance measurement
The technologies used for the distance sensors are as varied as the applications for which they can be used. Optical distance sensors for distance measurement up to 1 meter use the triangulation principle. For distance determination with larger operational distances, the time-of-flight principle is applied. In addition to optical distance sensors, ultrasonic sensors are also used for detection and distance measurement for transparent and highly reflective materials. Ultrasonic distance sensors determine the distance based on the time-of-flight principle of sound. Inductive distance sensors are used for distance measurement of metal objects at short distances and in harsh conditions.
Field off application for distance sensors
Automotive and supply industry
Mechanical engineering
Packaging industry
Handling and warehousing systems
Steel industry
Textile and paper industry
Wood industry
Triangulation principle optical sensors
A method for accurately measuring distances to objects is the triangulation principle with optical sensors. For sensors based on triangulation or triangulation measurement, the (laser) light source, the area on which is measured and the line sensor form a triangle. The transmitter and receiver are mechanically separated from each other in the housing, thus excluding internal interference.
The measuring principle of optical triangulation is suitable for accurate distance measurement at short distances. The transmitter transmits an optical signal which is reflected from the object to the receiver.
The use of pulsed light offers reliable background suppression and very high immunity to ambient light.
Distance measurement with Time-of-Flight principle
Optical sensors that use the time-of-flight principle are suitable for longer distances (up to 250 m). Time-of-flight sensors determine the distance to an object with a light-running time measurement.
Sensors that determine distance based on the time-of-flight principle are usually used in applications with medium range, for distances of a few centimeters to a few tens of meters on non-reflective objects
Withreflective objects, such as reflectors, the range can be extended to a few hundred meters.
The distance sensors of the F 90 series measure distances using time-of-flight technology up to a maximum of 250 m with a very high accuracy. The sensors are particularly suitable for use on production lines and in handling and warehousing systems due to their reliable long-distance detection.
HOWTO SensoTune - Use SensoVisualize configuration software for sensors with IO-Link
Distance measurement with ultrasonic sensors
Ultrasonic sensors with analogue output from SensoPart are used where optical distance sensors cannot perform reliable distance measurements.
Time-of-flight with sound
Ultrasonic distance sensors use the time-of-flight principle of sound instead of light/laser. The distance sensor transmits ultrasonic pulses. The target surface reflects the ultrasonic sound back to the receiver. The ultrasonic distance sensor measures the time of the sound pulse and calculates the distance based on this. The signal is sent to the controller as a current or voltage signal. Read more about ultrasonic sensors.
Ultrasonic distance sensor features:
Range of 20 ... 6000 mm
Working range and analogue output adjustable via teach-in
Analogue output 0 ... 10 V / 4 ... 20 mA
Inductive distance sensors
Inductive distance sensors only switch on metal objects and objects. Compared to optical and ultrasonic distance sensors, inductive sensors have a limited range. Thanks to the robust design and housing, inductive distance sensors are very suitable for use in harsh environments. Read more about inductive sensors.
Characteristics of inductive distance sensors:
Analogue output of 4… 20 mA
Range of 0 ... 6 mm and 4.5 ... 12 mm
Robust metal housings
Distance measurement in small places and robot applications
The FT 10-RLA distance sensor with a size of 21.1 x 14.6 x 8 mm and minimal maintenance is ideal for measuring tasks in extremely tight installation conditions. Despite the subminiature design, this smallest distance sensor has excellent sensor capacities with exceptional linearity and repeatability. With a measuring range between 10 and 70 mm with a blind zone of only 10 mm, the FT 10-RLA guarantees reliable detection of small parts. The measured value output is via IO-Link.
The smallest distance sensor is suitable for distance measurement during the assembly of semiconductor devices. With a weight of only 10 grams, the sensor is also ideal for robotics applications. Read more about SensoPart FT 10 sensors.
Areas of application FT 10-RLA distance sensor:
Robotics, e.g. distance measurement on grab
Production of electronics, for example double-layer control of printed circuit boards or height control of components.
Assembly and usage technology, for example for checking the accuracy of installation.
Optical short distance sensors for precical measurement
In addition to an analogue voltage output 1… 10 V, the compact distance sensor FT 25-RLA also has a switching output with two adjustable switching points as a window mode for two-point control. Thanks to the compact design 34 x 12 x 20 and the simple teach-in operation, the sensors are very suitable for simple measurement and control tasks at distances up to 200 mm (20-100 mm FT 25-RLA / 20-200 mm FT 25-RA ) with a resolution from 0.12 mm. The FT 25-RLA sensors are available in both LED and laser versions. Read more about FT 25 series photocells.
Areas of application: FT 25-RLA distance sensors:
Control of sag monitoring (LED / laser)
Determination of the roll diameter of an unwinding machine (LED / laser)
Stack height measurement, double layer detection and height measurements in the wood processing, packaging and processing industry (LED / laser)
Distance measurement and positioning on robot grippers in "Pick & place" applications (LED / laser)
Small partial measurement, e.g. O-rings and electronic components (laser)
Measurement on multicolored and high-contrast objects, e.g. packages (laser)
Miniature distance sensor FT 25 RLA Teach-in - Analogue output - SensoPart
Distance sensors with high accuracy
The FT 50-RLA distance sensors have a high accuracy (resolution up to 7 μm), despite the reflection of objects or materials. The optional serial interface makes it possible to communicate measured values ​​with a PLC. The analogue sensor is easy to adjust via the teach-in function.
Features FT 50-RLA distance sensors:
Fast response time up to 1 kHz
2 switching outputs
Analogue output: 4 ... 20 mA / 0 ... 10 V
ABS housing with rotating plug
Dimensions: 50 x 17 x 50 mm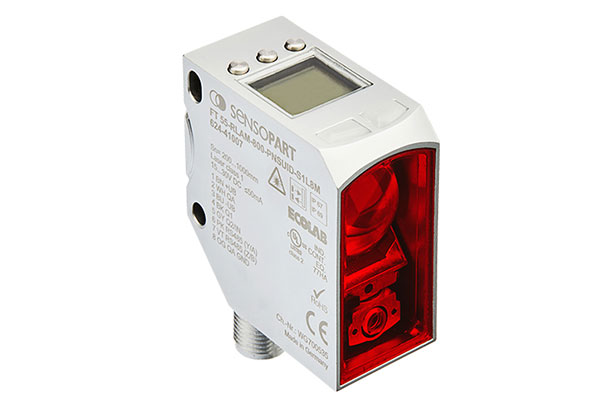 Distance sensor with different options for connectivity
The FT 55-RLAM distance sensor can reliably detect distances on surfaces - from black to glossy - up to 1 meter. Equipped with an analogue output, two switching outputs, an IO-link interface and optional RS485 interface, the sensor offers extensive connectivity options. Read more about the FT 55-RLAM distance sensor.
Features FT 55-RLAM distance sensor:
Range of 600 ... 1000 mm
IO-Link
Robust metal housing
Easy to adjust via LCD display
Dimensions: 50 x 50.5 x 25 mm
FT 55 RLAM - Smart laser distance sensor with high precision
Distance sensors for long distances (250 m)
Diffuse distance sensors can detect objects at distances up to 10 meters. For greater distances, reflectors are used for accuracy and reliability. The FR 90 ILA is able to detect objects at a distance of 250 meters. The measured distance is easy to read on the LCD screen. Thanks to the background lighting, the measured distance can also be read in the dark.
Long distances of up to 250 m are no problem with the time-of-flight principle and ideal in handling and warehousing systems.
Features of diffuse distance sensors:
Laser distance sensor using time-of-flight technology
Largely independent of the color and properties of the target object
Range: scanner up to 10 m, with reflector up to 250 m
Versions with analogue output and switching output
Interfaces for maximum compatibility, SSI compatible, RS422 (PROFIBUS and DeviceNet via gateway)
High repeatability and high measuring frequency
Enclosures: 93 x 93 x 42 mm
Application examples distance sensors
Read more about distance sensor applications in the following application examples: