RFID switch - Non-contact safety switches
In industrial installations, numerous different switches can be found. Since 2015, secured access to machines must comply with the EN ISO 14119 standard. Each door, valve, or protective cover requires its own construction, assembly, and security.
Checking status with safety sensors
Safety sensors, also known as non-contact safety switches, monitor the status of a door, valve, or protective cover for safe access/switching.
RFID safety switch
RFID safety switches communicate based on radio waves (Radio-frequency identification) and are therefore contactless. RFID switches are uniquely coded and cannot be manipulated, allowing for a high level of safety. The transponder (transmitter) emits a magnetic field to the receiver. The transmitted signal is received by the receiver, depending on the switching distance, and the safety switch is closed. ReeR Safety and Mechan Controls are specialists in the field of non-contact switching.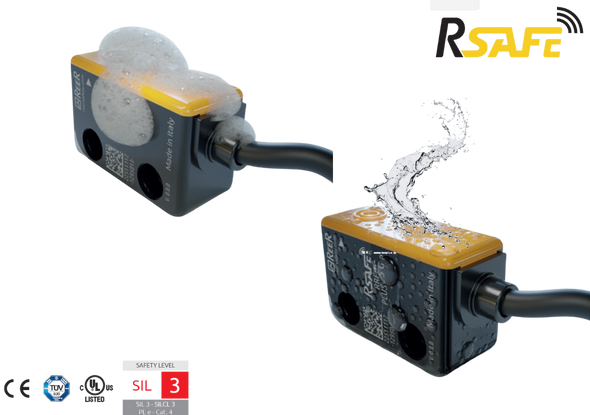 R-SAFE series non-contact safety switches
The R-SAFE series of non-contact safety switches utilizes RFID technology to communicate with authorized actuators. This system helps prevent machines and equipment from being activated if an authorized RFID actuator is not present.
Serial connection of 16 switches
An important feature of this new product is the ability to connect up to 16 RFID sensors in series, resulting in an efficient and cost-effective installation. Through the Mosaic safety PLC, it is possible to read the status of the individually connected RFID sensors in series.
Mosaic Safety Designer (MSD) software
This safety switch is fully mechanically compatible with other ReeR Safety RFID safety sensors, including the Magnus RFID and Magnus MG "S" series. Additionally, the RFID switches can be seamlessly integrated with ReeR's modular Mosaic safety PLC. The Mosaic Safety Designer (MSD) software enables users to easily design, configure, and manage safety systems, significantly improving the flexibility and scalability of safety solutions. Learn more about R-SAFE non-contact safety switches.
Unique read-out capability with R-SAFE
The R-SAFE series distinguishes itself by the capability to read the status of up to 16 RFID sensors on the Mosaic safety PLC using only a single wire. In other systems, a separate wire to the controller is required for each switch, resulting in more wiring and a more complex installation process.
Optimized Connectivity with S1 and S2 Connectors
The S1 connector connects the PLC to the first RFID sensor, while the S2 connector links the successive sensors together. This setup reduces the need for unnecessary cables and ensures a faster installation.
Contactless RFID safety switch in stainless steel houding
The RSSG-SS RFID safety switches from Mechan Controls are housed in a polished stainless steel 316 housing and are therefore resistant to CIP and SIP cleaning. They are therefore suitable for use in the beverage, food, petrochemical and pharmaceutical industries.
Features RSSG-SS RFID safety switches:
Polished stainless steel 316 housing
4 billion unique codes according to EN 14119
10 mm switching distance with 5 mm tolerance
Multi-color LED indication
Protection class IP67 and IP69K
RSSG-SS RFID safety switches (Stainless steel)
ODNK series RFID safety switches OSSD - PL-e
The ODNK series (uniquely coded RFID with 4 billion possible code combinations) from Mechan Controls are state-of-the-art OSSD safety switches. They use the latest safety technologies for maximum reliability and safety.
The non-contact switches are designed to operate standalone or can be connected to safety relays or safety controllers to fit perfectly into your safety system. Up to 30 O-Type switches can be connected in series while maintaining safety level PL-e in accordance with EN ISO 13849-1.
RFID safety switches - Mechan Controls
The RSS series safety switches from Mechan Controls are unique because they use volt-free contacts. You are not required to use relays or other safety components from Mechan Controls, but you can also connect the RSS series safety switches to the programmable safety relay from ReeR Safety.
The safety switches are individually coded and suitable for high security applications for securing machines. The RSS series is available with a IP69K seal rating for use in humid, heavy and dusty environments.
Volt-free contacts
Unlike other RFID switches on the market that use OSSD, the Mechan controls RSS series is unique because it uses voltage-free contacts, which means you are free to choose your safety relays.
The RSS series offers extra security by using 4,000,000,000 unique codes to safety category 4 according to safety standard EN 14119. Read more about Mechan RSS series.
Features RFID Contactless safety switch - Mechan Controls
RFID safety switches from Mechan Controls are unique safety sensors and have the following characteristics:
IP67 and IP69K seal
Housing: ABS filled with resin
4,000,000,000 unique codes
EN 14119 type 4, high
Equipped with an LED monitoring indication
Volt-free / voltage-free contacts