Signal lights and signal lamps
Without users and operators of machines and technical installations being aware, colors of a signal light indicate a certain status. Signal lights for safety are needed to warn users in dangerous situations. In practice, the following colors are often used:
Red: stop / danger

Yellow / orange: standby
Green: safe / switched on
Signal lights for different applications
Signal lights are available in different colors: red, green, yellow, blue, orange and transparent. Signal lamps are equipped with LED, light bulb, halogen and xenon light source. Signal lamps can demand extra attention by flashing, rotating or constantly burning. Signal lamps are also available with combined optical and acoustic signaling. ATEX signal lamps are available for the chemical and heavy industry.
R-serie LED-signal lights
The R-series is the brightest LED signal lamp in its category. The beacons are available in two lens designs (high-low) and performance classes and can be combined with an optional multi-tone base.
Different modules
The R-series is available as a continuous light module, multifunctional module and multi-color module. The three available basic modules can be combined with the low and high lens modules.
Prewired signal lights - P series
Signal lights are available in various shapes and sizes: from Ø30 mm recessed spotlights up to Ø160 mm with a high or low lens design. The P-series mediumsize industrial lighting from Auer Signal has a diameter of Ø75 mm. The P-series signal lights are configured and pre-wired with LED or Xenon light source.
Different versions of signal lamps
In addition to standard 110/120 VAC and 230/240 VAC models, there are also versions with a wide voltage range of 10-100 VDC and 20-70 VAC. The P-series signal lights are equipped with an IP66/IP67 degree of protection and are supplied with one meter of cable as standard. All plastic parts are made of high-quality polycarbonate plastics (IK 08).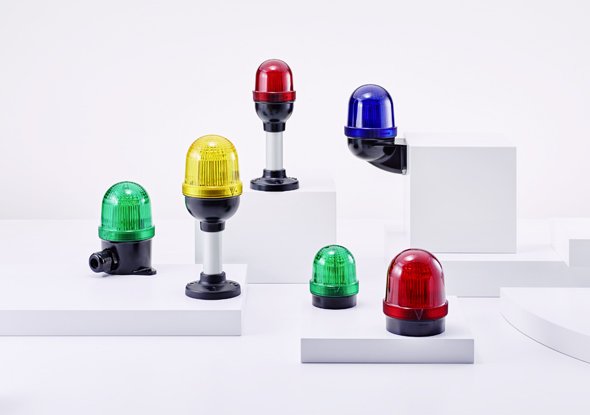 Signal lamps for surface and panel mounting
The T-series (ø75 mm) and U-series (ø60 mm) signal lamps have been developed as surface mounting and panel mounting. Industrial lighting with visual, audible and visual-audible functionalities are possibilities of the T-series.
Extreme and demanding applications
The T & U-series are the ideal solution for extreme and demanding applications. The signal lamps are resistant to temperatures from -30 °C to +60 °C, with a protection degree of IP66 and impact resistance up to IK 10, which makes the signal lamps have an extremely robust design.
Characteristics:
Standard surface-mounted and panel mounting version in Ø 75 mm and Ø 60 mm
Low power consumption and a long service life
Highly efficient and high-quality LEDs
Available with externally switchable LED
UL certification
Modular and stackable signal lights
The Q and A series are modular signal lamps with multi-tone sirens. Because the units are stackable, it is possible to combine lamps and sirens. It is also possible to combine the small built-in buzzers from the Auer Signal range and thus build your own siren / signal lamp.
The impact-resistant polycarbonate housing ensures an IP66 class and is water-resistant and completely dust-resistant. This allows the signal generator to be used in a large number of applications. Read more about Q and A series modular signal lamps and sirens.
Modular rotating lights with turning mirror
Modular beacons are signal lights equipped with an internal rotation mirror. The Ø 90 mm rotating beacon has a high operational reliability due to the synthetic bearings. The modular flashing light is easy to assemble.
Rotating mirror / stable light beacon
The signal lights are equipped with a rotating mirror beacon or a stable constant light beacon. The rotating beacon has a speed control of 90/180 RPM with a constant speed independent of temperature and environmental influences. Rotating signal lights are available in ATEX version with IP66 degree of protection.
Explosion-proof signal lights - ATEX
The highest levels of safety require the highest quality levels of signal lamps. The ATEX signal lamps for applications in potentially explosive atmospheres have a robust and seawater-resistant housing with a protection degree of IP66/IP67. The ATEX signal lights are made of metal or plastic.
Application in potentially explosive atmospheres
The ATEX signaling equipment has the highest mechanical stability, the parts are wear-free and maintenance-free and offer safety for all applications where the atmosphere may be explosive. For atmospheres classified as potentially explosive, where flammable gases and vapors (zones 0, 1 & 2) or inflammable dust (zones 20, 21 and 22) can form a continuous, frequent, incidental or even rare risk.
Signal towers - Modular and stackable
In addition to signal lamps, complete signal towers are also available. The signal towers are modular and stackable, up to 6 modules per tower with the Modul Perfect 70 - PC7. Read more about the Modul Perfect 70 - PC7 from Auer Signal.
Modular signal towers and signal columns
Modular signal towers are available in several variants as surface-mounted, wall and panel-mounted versions. Optical, acoustic and optic-acoustic models are also available. Modular signal towers are available with corner mounting, pipe mounting, floor mounting and wall mounting elements.