Steute - Switches and safety switches
For more than 50 years steute has been developing and manufacturing switchgear, sensors and control units for industrial automation, medical equipment and building automation. For example pull-wire switches, position switches and wireless switches. Steute is the specialist in the field of safe switching applications.
Assortment of steute
Steute develops and produces pull-wire switches, position switches, safety interlocks and foot switches for industrial automation and intuitive control systems for the medical industry.
Steute products offer the solution in applications where others give up. Whether the application is extremely wet, extremely cold, explosive or a combination of these factors; steute has the solution. And if the existing solution is not sufficient, a custom-made product is possible.
steute - Applied intelligence
steute footswitches and foot pedals
When the operator's hands are needed in the process, the best solution is to use a foot switch to start or stop a machine safely. Footswitches are available with or without safety function and with up to 5 pedals per switch. Unique are the wireless foot switches from steute, which give the operator more freedom of movement around his machine. In addition, this reduces the risk of tripping and no malfunctions can occur due to damage to the cable.
A selection of the possibilities:
ATEX certified and corrosion resistant
Wireless (safety) foot switches
Foot switches with IP69K certification for applications in the food industry
Foot switches for operating medical instruments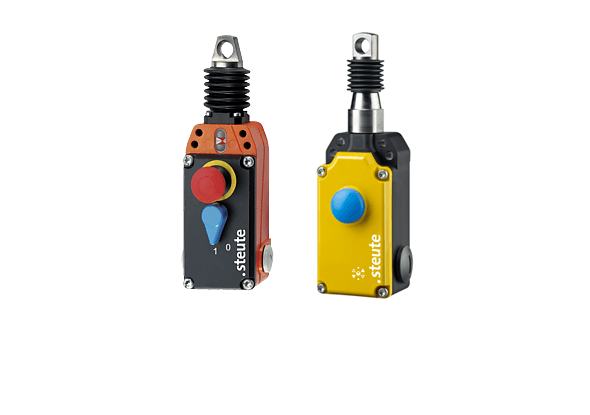 steute emergency stop switches
Pull-wire switches and emergency pull-wire switches differ little in appearance, but functionally they are completely different. In either case, the contacts are made or broken by pulling the cord, but pull-wire switches are used in non-safety applications. A typical application is the opening or closing of a door. This can be done both wired and with a wireless pull-wire switch.
Pull-wire switch as an extended emergency stop
An emergency pull-wire switch is an "extended emergency stop" and offers the possibility to activate an emergency stop function over long distances using only a single component. Since the emergency pull-wire switches have a safety function, they have integrated cable break detection that activates the emergency stop function in the event of a cable break.
Various applications
Both types are available for various applications and meet the most stringent requirements in terms of reliability, food safety, watertightness, corrosion resistance and explosion protection.
Features of steute pull-wire switches:
ATEX, Marine and Offshore applications
One-sided and two-sided operation
With safety functions and reset button
Wireless pull-wire switches

steute position switches and limit switches
Position switches or limit switches check the position of, for example, valves and valves or confirm the presence of an object. The actuator detects the position and sends a usable signal to the machine control via the switching element.
Position switches for extreme applications
Position switches come in various designs, the mounting dimensions of which are standardized in the market. The position switch was steute's first product in 1961 and the current delivery program offers solutions that can be used in the most extreme applications.
Features of position switches and limit switches steute:
Extreme and demanding applications (ATEX, Maritime and Offshore)
Degree of protection up to IP69K
Analogue position switches
Wireless and compact design
Vibration and shock resistant
steute - Safety interlocks and solenoid interlocks
As soon as a safety device is opened, the safety switch must stop a dangerous installation, for example a machine movement, and prevent the dangerous installation from being started.
Controlled circuit
In contrast to classic safety switches, safety interlocks have a coil that holds the bolt until a signal from the machine control sends the coil and thus releases the bolt. The safety device, such as a shutter or fence, can be opened in a controlled manner and the machine movement can be stopped in a controlled manner in a safe position. Steute's safety interlocks provide safe access for operators in a machine or installation.
Steute wireless push buttons and control switches
Push buttons or push buttons provide (part of) the operation of a machine. A function can be switched on or off at the touch of a button. Standard push buttons must always be cabled.
Wireless push buttons and control switches
This is not necessary for wireless push buttons. In addition to saving cables, another major advantage is that large distances can be bridged.
Steute wireless sensor network for intralogistics
Nexy, the wireless sensor network for intralogistics applications from steute, offers the possibility to transfer the signals from switches and sensors wirelessly to a database that is linked to, for example, an E-Kanban, Andon, FTS or ERP system.
Automatic material supply
Nexy is suitable for, for example, automatic material supply at workshops with integration into a WMS system. In this way, the work floor is connected in real-time with the production management and supply chain.
sWave.NET®
The Nexy offer consists of switches, routers that serve as receivers of the wireless signal and a communication API that serves as a link between sWave.NET® and a database of, for example, an ERP system.
Wireless sensor network features - Steute Nexy:
Industry 4.0
Efficient process and plant performance
Fast and uninterrupted process optimization
Universally applicable
100% integrated
Magnetic sensors and magnetic proximity switches - steute
In environments with extremely low temperatures, users rely on the non-contact operation of sensors. With non-contact magnetic sensors, there is no risk of frozen moisture interfering with the operation of mechanical switches, such as position switches. Read more about M20 magnetic sensors.
Applications magnetic sensors
The magnetic sensors are ideal for detecting the position of valves, valves, covers and other moving parts, for example for installations in the oil and gas industry (onshore and offshore), shipbuilding and port facilities.
Features steute magnetic sensors:
Temperature range: -60 ° C to +130 ° C
Degree of protection IP66 to IP69K
ATEX and IECEx approved
Duroplast and stainless steel housing
Both wired and wireless
Non-contact safety switches - safety sensors - steute
Explosion-proof safety sensors are used for position monitoring of laterally sliding, rotating and detachable safety devices. The use of explosion-proof safety sensors offers the solution in extremely dirty conditions or where strict hygienic standards must be observed. The sensors are easy to clean with both hot water and water under high pressure. Another advantage is the possibility of concealed mounting behind non-magnetic materials.
Explosion-proof safety sensors
In applications where an accurate approach is not possible and greater tolerances are required, the explosion-proof safety sensors are also used. The Ex HS Si 4 safety sensor from steute is ATEX certified for explosion zones 1 and 21. Special variants are available for gas explosion zone 2 and dust explosion zone 22. The safety sensor has a protection degree up to IP67 with a safety level up to PL e in accordance with EN ISO 13849- 1.
steute medical - Foot switches for healthcare
Whether in diagnostics, the operating room or doctor's office, medical equipment must be operated intuitively. Only in this way can doctors and other medical personnel fully focus on their patients.
Steute has a lot of expertise in the field of very demanding human-machine interfaces. The steute medical program not only provides a standard range of foot and hand controls for medical devices, but also numerous custom drives for highly complex and wireless customer-specific applications, such as for surgery or ophthalmology.