Pull-wire switches and emergency stop cords
A pull wire switch is also referred to an emergency stop switch, but due to the additional functions, a pull switch is more than just an emergency stop pull wire switch. For example, a pull wire switch can have an emergency stop button and integrated reset button. Steute develops and produces, inter alia, pull wire switches, position switches, wireless switches and is a specialist in the field of safe switching applications.
ATEX, IP69K pull wire switch
Pull wire switches are available in different variants. For example, there are pull wire switches with plastic and metal housings, ATEX versions, seals up to IP69K and single or double-sided operation. The switch is operated by pulling the wire/cable (draw cord).
Installation of the pull-wire switch ZS 92 S

Pull wire switch with safety function and reset button - IP69K
The pull wire switch ZS 71 from steute has an integrated reset button in addition to the safety function. For machines with limited installation space, the ZS 71 is a suitable solution. Due to its length of only 105 mm, the pull switch with cord can be built in very compactly. The ZS 71 is available with two or three contacts (2x NC and 1 NO). The pull cord switch is resistant to water at 80 °C and has a draw cord of 35 m. Read more about pull-wire switches.
Pull cord switches with IP69K seal
The ZS 71 pull switch is available with an IP69K seal. The corrosion-resistant housing is resistant to acid and cleaning with a high-pressure cleaner of 100 bar at a distance of 10 cm. It goes without saying that all models meet the standard EN 418 / IEC 60947-5-5. Read more about pull wire switch with safety function and reset button.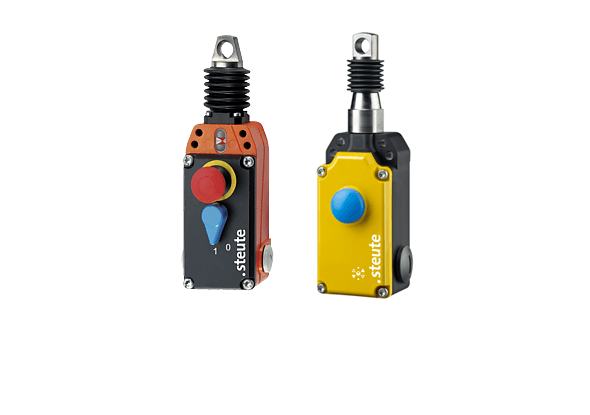 Pull wire switch for extreme environments
The ZS 92 S pull wire switch with safety functions has an aluminum housing and is equipped with multiple coatings (passivated, base coat, powder coating). The pull wire switch can withstand temperatures from -40°C up to +85 °C.
Installation in each working position
The ZS 92 S pull cord switch is available in nine different settings and can be installed in any working position. Installation at the rear is also possible. Read more about the ZS 92 S pull wire switch.
Pull-wire switches with plastic housing for extreme conditions
Until now, the extremely robust and versatile emergency stop and band switches of the ZS 92 S/SR series from steute were "packaged" in a die-cast aluminium housing which, thanks to several coatings (passivation, primer coating, powder coating), is ideally suited for extreme environmental conditions. As an alternative, users can now also choose a housing made of high-quality duroplastic, which is absolutely corrosion-resistant. All screws and connecting elements are made of stainless steel.
Compatible with current ZS 92 series safety switches
The installation dimensions are compatible with current ZS 92 series emergency stop rope and belt alignment switches, making it easy to retrofit existing (conveyor) installations with the new switches or to replace them later. With the ZS 92 SR Tie-Wire switches, the switching points for advance warning and shut-off can be easily set in 5° increments, which significantly increases usability and versatility. Read more about ZS 92 pull-wire switch with plastic housing.
Corrosion resistance of pull-wire switches
The Extreme pull cord switches from steute are suitable for use in damp, wet and even salt water environments. Corresponding corrosion tests, for example the salt spray test according to DIN EN ISO 9227, monitor the quality of such pull cord switches. But how do these switches perform in practice? For example, how are they affected by repetitive waves or underwater pollution?
Maritime applications
These are crucial questions, as Extreme switches are often used in maritime applications on ships, on drilling platforms, in quay anchor systems or on container terminals in seaports. Steute has conducted a 1-year test in the North Sea. Read more about this Extreme test by steute.
Paint on grab wire switch comes off due to cleaning process
At 2 Sisters Storteboom in Nijkerk, the paint from the pull-wire protections came off. No desirable situation at a company that must meet the strict requirements that apply within the food industry.
Plastic pull cord switch
"The drawstring protection works fine in itself, but due to to our cleaning process the yellow color slowly disappeared. During the day the temperature is between 2 and 4 degrees, but the cleaners spray the work floor and the machines clean with warm water in the evening hours. This released the paint and it disappeared into the pits. Of course, we were looking for a solution." Read more about the solution with a plastic grab wire switch.
Pull-wire switch with recovery button and emergency-off button
An emergency stop pull-wire switch provides protection on every part of the technical installation. In case of emergency, the emergency stop can be activated immediately, without looking for the emergency stop switch. The pull wire switches have degree of protection up to IP65/IP67.
ATEX pull-wire switches for heavy applications
Lift conveyors are often used in heavy industry, such as mining, machine industry and the chemical industry. Metal or stainless steel housings are preferred in heavy industry. ATEX variants are available for ATEX zones with explosion hazards.
Installation of pull-wire switch ZS 80
Wireless pull-cord switch RF 96 WH - Nexy
If an employee somewhere along the line wants or needs to stop the conveyor belt, he operates a pull-wire switch to bring the line to a safe stop. The series of pull-wire switches RF 96 WH / 90° from steute are designed for such applications. The pull-wire switches can be installed easily and flexibly without cabling. The signals from the switches are transmitted remotely to an upper receiver.
Wireless network system for sending signals
The signals can now also be transmitted within a wireless network. For this purpose, steute has developed a new wireless switch: a variant which uses wireless sWave.NET® technology. Read more about the wireless pull-cord switch Rf 96 WH.
Accessories for pull-wire switches
Various accessories are available for steute (emergency stop) pull-wire switches. These include compensating springs to compensate for length variations due to temperature changes, tension locks for precise adjustment of the cable pre-tension, cable tensioners and complete cable systems.
Other accessories for pull-wire switches:
End rings
Wire clamps and eyes
Loose pull-cords
Mounting sets
Cable guides
Pull wire switch with recovery key - ATEX
In addition to pull-cord switches with pushbuttons, there are also pull wire switches with safety function and recovery key. The steute ZS 75 pull cord switch is suitable for extreme, explosive and heavy-duty environments. The housing is made of cast aluminum.
ATEX switch
For environments where there is a risk of explosion due to the presence of flammable gases or substances, there is an 'Extreme' version, the pull cord switch with release key Ex ZS 75.
Pull wire switch with two-sided operation - IP67 - EX 1 and 21
The steute Ex ZS 90 S IP67 has two-sided operation and is suitable for ATEX zones 1 and 21. The pull cord switch has a thermoplastic housing with IP67 seal has two-way operation with four contacts (2 NO / 2 NC). The pull cord switch can be unlocked with a lever and detects wire drawing and breakage.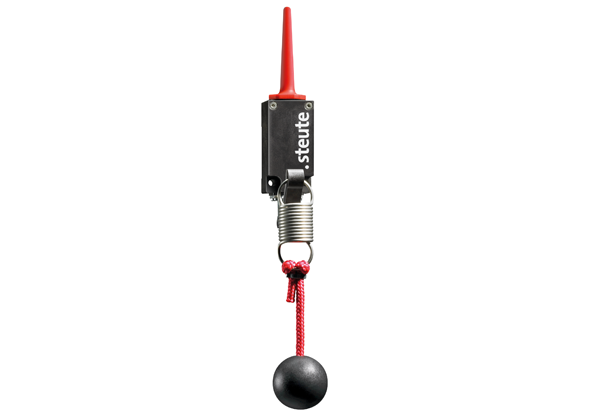 Wireless pull wire switch - EX 1 & 21 - EnOcean®
The wireless switch RF 95 WH / 90 ° EN868 from steute has a fiberglass reinforced, impact-resistant housing. For explosive environments, there is an Ex variant (Ex RF 95 WH / 90 ° EN868). The pull switches have a sealing degree of IP65 / IP67. The Ex wireless pull-cord switches can be used in classification zones 1 and 21.
EnOcean® technology
The wireless pull-cord switch uses wireless EnOcean® technology and is self-sufficient (kinetic energy). There are also wireless pull-cord switches using sWave® technology (SW868 / SW915)