20/01/2017
Compact and solid pull-wire switches with safety function and reset button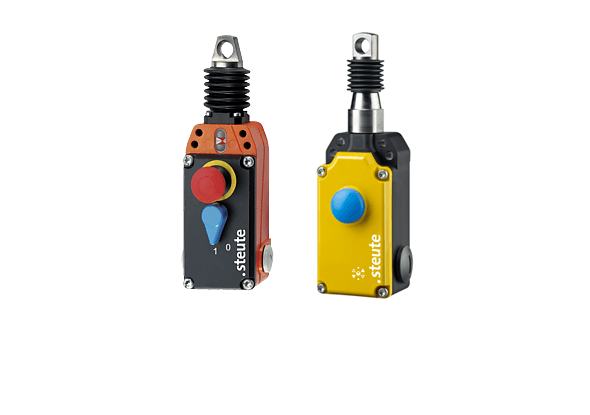 Compact installation
Machinery and plant manufacturers who need a solid, robust and reliable emergency pull-wire, e. g. for cramped mounting areas and small machines, are well-advised to opt for the ZS 71. This device offers not only a very compact enclosure of just 105 mm, but also a high degree of reliability and safety.
The standard version includes the monitoring of wire pulls and breaks: if the wire, which may extend to 20 m, should break or be dismantled, the switch will automatically assume the safe latched status. The emergency-stop function is unlatched by means of a push button. New variants are now available for this universally applicable series. Previously the ZS 71 was available with two contacts (optionally 1 NO/1 NC or 2 NC contacts). Now steute has developed a new, more compact switch insert with three optionally available contacts: 2 NC and 1 NO or 1 NC and 2 NO contacts.
Protection standard: IP69K
Another new product is the variant in protection class IP69K. This means that the emergency pull-wire switch can be subjected to hydraulic pressures of up to 100 bar with a high-pressure cleaner, coming from any direction and at distances as short as 10 cm, as well as to temperatures of up to 80 °C. The gaskets of the aluminum die-cast enclosure are designed to endure such loads. Thus the ZS 71 is ideal for application in areas which are often cleaned, as well as in particularly contaminated and humid environments. It goes without saying that all variants within this emergency pull-wire switch series meet the emergency-stop standard EN 418/ IEC 60947-5-5. Read more about pull-cord safety switches.
View ZS 71 pull-wire switch with safety function Ask your question