Steute Extreme
Environmental conditions have a major influence on the functioning of switchgear. Heat, cold, dust, moisture, vibration, explosion sensitivity and corrosion; there are many circumstances in which classic switching equipment does not (or can not) function. Steute switchgear has been developed for such applications, which are durable, even against extreme conditions. The name of the range says it all: "Extreme". The "Extreme" range includes switchgear with unique features, such as:
Sealing degree
Housing
Temperature
ATEX zones
Resistant to shock and vibration
Safe switching equipment
Steute develops and produces switchgear and is a specialist in the field of safe switching applications. Steute has a solution for every switching application. Often these are standard solutions, but if there is no standard solution, then a custom-made product is possible.
The following switches belong to the "Extreme" range:
Degree of protection - Sealing degree
The IP (Ingress Protection) rating system is an internationally recognized scale with regard to protection against environmental factors such as liquids and solids. The IP value is followed by 2 digits. These numbers determine the value of the protection. The first number refers to the amount of protection against solids, such as dust particles, while the second number refers to the protection against liquids. The larger the number, the greater the protection. The highest protection is IP69K.
What is IP69K?
The IP69K classification provides protection against the ingress of dust and water products under high temperature and under high pressure. The IP69K classification is ideal for use of equipment in conditions where the equipment has to be cleaned carefully.
In industries such as food processing, where hygiene and cleanliness are of the utmost importance, the equipment must be able to withstand stringent high-pressure cleaning procedures at high temperatures. In many industries, where dust and dirt can be a problem, it is important to ensure that dust can not penetrate a product's casing and cause it to malfunction. Steute has many switchgear that are unique due to the high degree of protection of IP69K.
Achieve IP69K and its benefits
In environments where heavy cleaning procedures are required, such as in food processing industries, the combination of water, chemicals, high pressures and temperatures can be fatal to electronic equipment. The products with an IP69K rating undergo a challenging series of tests to ensure that they offer protection against water and dust penetration under high pressure and temperatures.
HOUSING
Corrosion-resistant aluminum
The housing of switchgear plays an important role in durability and resistance to environmental factors. In the applications of equipment in ports and at sea, a lot of damage is caused by corrosion of materials. The failure of equipment due to corrosion in offshore can have major (financial) consequences. Aluminum is highly corrosion-resistant and is widely used on equipment in offshore applications. Aluminum protects itself with its layer of oxide, unlike many other metals.
Glass fiber reinforced thermoplastic (PA66)
Aluminum does not offer the solution in every application. Fiberglass-reinforced thermoplastic (PA66) has a number of advantages over aluminum. PA66 has a lower density, has better chemical resistance, lower wear and friction, is firmer and has less production costs. Do you need a switch in an application that is frequently cleaned with chemical cleaning agents? Then PA66 or another plastic is preferred. A plastic housing reinforced with glass fiber is resistant to vibrations and impacts.
UL94-V0 (self-extinguishing)
UL stands for Underwriters Laboratories. UL writes safety standards covering almost anything that is conceivable, and grants approvals for products that meet the requirements of a particular standard according to their audit and counter tests. UL94 is a standard established by UL for testing the flammability of plastics. For UL94-V0, there are many different tests within UL94, including vertical, horizontal and 45 ° flame tests, all of which have different rating designations. The V0 is the hardest to reach and is what most customers need.
Temperatures -60°C up to +180°C
The above blocks describe a number of factors that have a major influence on the temperature resistance of switching equipment and switching components, for example the housing.
Aluminum vs. plastic
An aluminum housing is resistant to high temperatures (+ 180 °C), but at temperatures of -60 °C a plastic (glass fiber reinforced impact-resistant thermoplastic PA66) is preferred. The switchgear from steute has a temperature range from -60 °C to +180 °C.
ATEX ZONES
ATEX stands for all situations where there is a risk of gas or dust explosion. The abbreviation ATEX comes from the French words ATmosphere EXplosible from the European directives of explosion safety.
Explosion danger
Companies that work in environments where there is a risk of explosion must take measures to ensure the safety of the employees to carry out their work. Guidelines have been drawn up for this. Switchgear that is used in environments where there is a risk of explosion must meet specific requirements.
The housing and sealing degree play an important role for the application of switchgear in ATEX zones. ATEX zones are divided into two areas; gas explosion zone (zone 0, 1 and 2) and dust explosion zone (zone 20, 21 22). The zones are divided as follows:
Zone 0/20: often or always present a danger of explosion (> 1000 hours per year)
Zone 1/21: common or sometimes explosive danger present (<1000 and> 100 hours per year)
Zone 2/22: little risk of explosion present (<10 hours per year)
Steute safety pull-wire switches with reset button
The steute ZS 71 safety pull cord switch is available with a protection standard up to IP69K and is therefore suitable for environments where regular cleaning is required. The switch is small in size, only 105 mm long and therefore easy to install in small and tight spaces.
Safe locking position
If the pull cord with a maximum of 20 meters loosens, the steute pull-wire switch automatically goes into a safe locking position. The pull-wire switch can be unlocked by activating the reset button. Read more about the safety pull-wire which by steute.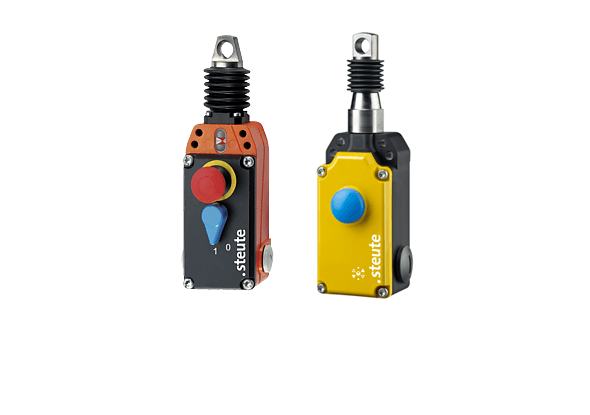 Pull-wire switch with fiberglass-reinforced housing
The steute ZS 91 pull-wire switch has been specially developed for 'extreme' and 'heavy-duty' applications. The housing of the steute pull-wire switch is fiberglass-reinforced and resistant to high mechanical loads. The pull cord has a maximum length of 2x 50 meters. This allows large, hazardous areas to be provided with emergency-off functions.
Analog position switch - steute Extreme
Is the steute position switch open or closed? The steute HS 98 position switch has an analog output that shows the position of valves. The analog signal is 0 ... 20 mA, 4 ... 20 mA or 0 ... 10 V. The switch belongs to the steute extreme series and has a metal housing that is salt-water resistant according to DIN EN 500041 The actuators can be rotated 90 degrees so that assembly is easy. Read more about steute HS 98 analog position switch.
View 98-series position switches in the webshop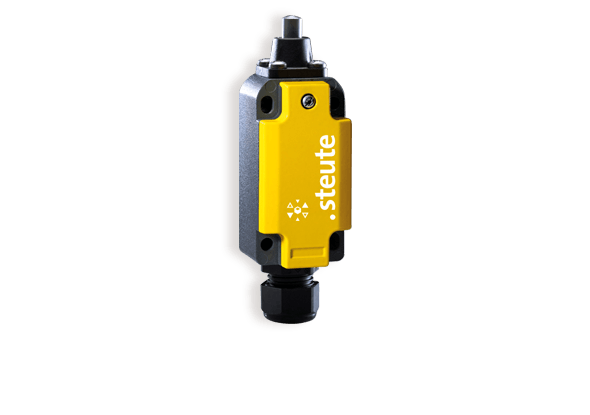 Contactless switch magnetic principle for -40°c and atex
The RC 2580 contactless sensors by steute work on the basis of a magnetic principle. The housing is made of stainless steel and is thereby corrosion resistant.
High degree of protection
the contactless RC 2580 sensors are available with a high degree of protection, up to IP69K and is required, ATEX versions are available for Ex zone 1 and 21. The contactless switch is resistant to cleaning under high pressure and temperatures up to -40 degrees Celsius. Read more about steute RC 2580 contactless switch.
Wide range
Examples from the comprehensive range includes for example safety sensors in protection class IP 69K, vibration-resistant Hall sensors, foot switches for underwater applications with protection class IP 68, robust emergency pull-wire switches for underground mining and salt-resistant position switches in protection class IP 66.